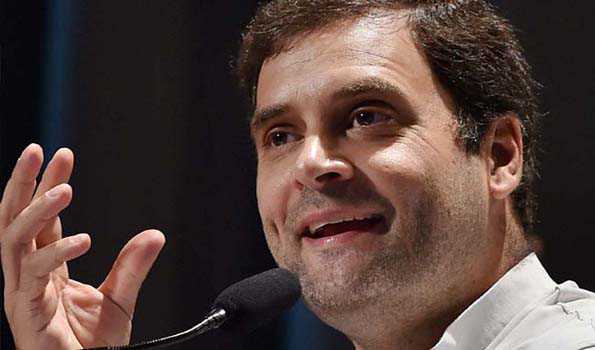 Amethi, Apr 17 : Congress President Rahul Gandhi hit out at Prime Minister Narendra Modi on Tuesday, claiming that the Prime Minister is afraid of standing in front of him in Parliament, over several lapses of his government.
"If I am given just 15 minutes time in Parliament, the PM would not able to stand before me. He cannot stand before me on the issue of Raffle deal or over the Neerav Modi issue," he said, while addressing a public meeting on the second day of his visit to Amethi.
He alleged that Mr Modi has gifted Rs 45,000 crore to one of his industrialist friends, while conspiracy was on to grab the HAL and employment in Bangalore.
"PM promised of acche din to the people of the country. But actually, only 15 people are experiencing achhe din, while other people were put in queues during demonetisation," he further alleged.
The AICC chief also lambasted the Centre over the shortage of currency in ATMs and said that when the friend of Modi (Neerav Modi) has taken away Rs 30,000 crore, then there could be such shortage.
After inaugurating a community hall and other developmental projects at Gajesarpur, Mr Gandhi said the PM claims that he has a 56-inch chest but unfortunately, the poor were not accommodated in his chest, which only has love for the industrialists.
"Modi has ditched the people of the country by not fulfilling their aspiration like giving them jobs, but instead he is inciting communal and caste clashes in the country. Congress is fighting against these ideologies and will defeat them at any cost," he said.
Without taking the name of Union minister Smriti Irani, the Congress President said, "Some people are trying to take the benefit of my works on development in Amethi. Let them take it as I don't care as I want the area to be developed not the credit," he said.
"It is clear that Narenda Modi government is helping Neerav Modi and Vijay Mallya, who have been involved in the financial scam. Similarly in UP, the government of Yogi Adityanath is saving the party MLA in a rape case," he said.
The Central government is all about false promises, remarking "People are still waiting for Rs 15 lakh in their account."
However, he asked the people not to get depressed with this BJP government as development and welfare programmes will again start, once the Congress comes to power in 2019.
Mr Gandhi told the farmers that when he talked about farm loan, Union Finance Minister Arun Jaitley informed him that there is no such proposal, but the government waived Rs 2.5 lakh crore of loan of five big industrialists.
He also questioned that the Centre promised jobs to 10 crore youth, but except for Jai Shah (son of BJP President Amit Shah), no one got a job.
Mr Gandhi's visit follows Union Information and Broadcasting Minister Smriti Irani's tour to her constituency, on April 13 and 14.
The Congress President, after spending two days in Amethi will reach Rae Bareli with his mother and local MP Sonia Gandhi.
On the second day of his visit on Tuesday, Mr Gandhi held a 'janta durbar' and later inaugurated several roads and other projects in his constituency.
In the afternoon, the Gandhi scion attended the meeting of district monitoring committee at Gauriganj Collectorate. Later, he inaugurated the Rajshree Ranajay Global school and passport service centre.
He would spend the last day of his visit in Rae Bareli and leave for Delhi on April 18 evening.(UNI)