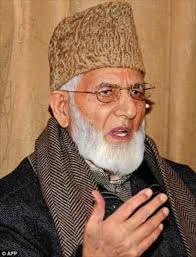 Srinagar April 23, : All Parties Hurriyat Conference chairman, Syed Ali Geelani on Monday strongly condemned the state authorities for closing private coaching centers, saying this illustrates their egoistic approach. Blaming state administration for following RSS agenda and said that this dictatorial order is aimed at to ruin future of our students.
Geelani accused authorities for hatching conspiracies and said they failed to deliver any good, saying their activities are aimed at to please their masters in New Delhi.
All orders are being issued from Nagpur, blamed Geelani and added that state authorities are pushing youth to wall. It is ridiculous and shameful for these stooges to blame students for stone throwing and the state directives carries no sense, Geelani said and added that state authorities while destroying all sectors including business, education and economical activities are fomenting trouble and making situations explosive.
Refereeing to private coaching centres Geelani said exceptions are everywhere and leaving aside a few drawbacks these institutions have contributed a lot in reforming the society while as corruption and nepotism is the hall mark for government sponsored institutions, saying these private coaching centrers can contribute a lot if they follow sacred values instead of business interests.(Agencies)