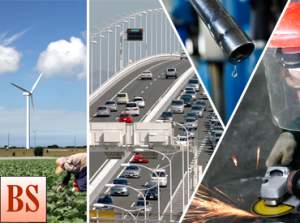 New Delhi, May 23 :Hindustan Petroleum Corporation Ltd (HPCL) has reported a dip of 3 point 8 per cent in its net profit at Rs 1747.89 crore for the fourth quarter of the financial year 2017-2018 against Rs 1818.79 crore in the same quarter previous year.
'For the period January-March 2018, HPCL recorded a Profit after Tax (PAT) of Rs1,748 crores against a PAT of Rs 1,819 crores for the corresponding quarter of previous financial year. The gross sales was Rs.66,351 crores during January-March 2018 as compared to Rs. 58,668 crores for the period January-March, 2017.The relative inventory gains during the period Jan-March 18 were lower as compared to the previous corresponding period of 2016-17," a company statement said.
In a statement issued late on Tuesday, the oil company said it achieved the highest ever profit of Rs 6,357 crore on standalone basis during the financial year 2017-18 as against profit of Rs 6209 crores during financial year 2016-17.
Gross Sales during the financial year has increased to Rs 2,43,227 crores as against Rs 2,13,489 crores during the previous financial year. Despite lower Inventory gains in the current financial year 2017-18, the growth in profit is mainly due to increased refining throughput, higher domestic market sales, better operating efficiencies and improved cracks.
During FY 2017-18, HPCL refineries at Mumbai and Visakh have maximized crude processing and recorded the highest ever combined refining throughput of 18.28 MMT with capacity utilization of 116 per cent, compared to throughput of 17.81 million tonnes achieved during 2016-17.
During financial year 2017-18, the company achieved the highest ever sales volume of 36.87 million tonnes, including exports of 0.68 million tonnes, with a growth of 4.7 per cent. The sales of Motor Spirit (Petrol) increased by 8.5per cent, High Speed Diesel by 4.5per cent, LPG by 8.5per cent, Aviation turbine fuel by 5.4per cent, and Lubes by 1.6per cent, compared to FY 2016-17.
During 2017-18, the oil firm continued to be India's largest lube marketer for the fifth consecutive year in highly competitive lubricant business with a total market share of 44.5per centin the PSU category.
It has reported Consolidated Profit after tax of Rs 7,218 crores during the financial year 2017-18 as against Rs 8,236 crores during previous financial year 2016-17.
The Consolidated Profit is lower due to shutdown taken by one of the Joint Ventures- HMEL to hook up its expansion project to increase its installed capacity from 9MMTPA to 11.25 MMTPA. Further Share of profit from MRPL for FY 2017-18 was Rs 338 crores as against Rs 589 crores during FY 2016-17, the HPCL release said.
For the year 2017-18, HPCL has proposed a final dividend of Rs. 2.50 per share, which combined with the Interim dividend Rs 14.50 per share totals to a dividend of Rs.17.00 per share.
During January-March, 2018, the company recorded domestic sales volume of 9.39 MMT with a growth of 7.2 per cent over the corresponding quarter of previous year. The sales of Motor Spirit (Petrol) increased by 12.8 per cent, High Speed Diesel by 9.3per cent and LPG by 6.7 per cent, over the corresponding period of previous financial year.
LPG supply infrastructure was augmented with commissioning of Asia's largest LPG plant at Panagarh (West Bengal) with a bottling capacity of 250 TMTPA. In addition, capacity augmentation projects of 60 TMTPA each at Unnao (Uttar Pradesh) and Purnea (Bihar) LPG Plants were also completed during the year.
A total of 669 new retail outlets were commissioned during 2017-18 taking the number of total retail outlets to 15,062 as of March 18.
Both refinery expansion projects, Visakh Refinery Modernization Project and Mumbai Refinery expansion Project are progressing well as per project plan. Work has commenced for new 9 MMTPA Rajasthan Refinery & petrochemical Project of HPCL Rajasthan Refinery Limited, the HPCL said.
HPCL's pipeline expansion projects – for Mundra Delhi Pipeline (MDPL) Capacity Expansion, Extension line from Palanpur to Vadodara including Green field Terminal at Vadodara, Visakh-Vijayawada-Secunderabad Pipeline (VVSPL) Capacity Expansion are progressing as per schedule. In addition, UranChakan LPG Pipeline project and RamanmandiBahadurgarh pipeline expansion project are in advanced stage of completion.
UNI.