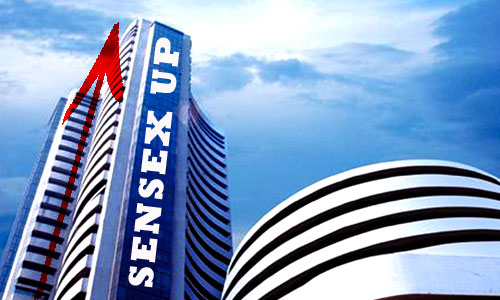 Mumbai, May 31 : The benchmark index of Bombay Stock Exchange (BSE) on Thursday rose by 123.25 points to 35,029.36 tracking a firm trend in the global markets amid sustained buying by domestic
institutional investors.
The Nifty of National Stocks Exchange (NSE) too advanced by 31.65 points to 10,644.00.
The Sensex registered intra day high and low at 35,152.17 and 34,926.08 points, respectively.
The Nifty recorded intra day high and low at 10,676.10 and 10,620.40 respectively.
Buying in Oil&Gas, Bankex IT and Teck stock put sensex up.
The gainers were ONGC by 3.42 pc to Rsa 179.90, HDFC bank by 2.16 pc to Rs 2091.00, M&M by 1.50 pc to Rs 909.00 Coal India by 1.21 pc to Rs 292.25 and Infosys by 1.19 pc to Rs 1228.55.
The losers were ICICI Bank by 1.28 pc to Rs 281.60, Sun pharma by 1.26 pc to Rs 488.50, Hero Motocorp by 1.13 pc to Rsa 3565.95, Dr Reddy by 0.98 pc to Rs 1,943.25 and Power Grid by 0.91 pc to Rs 207.60.
UNI