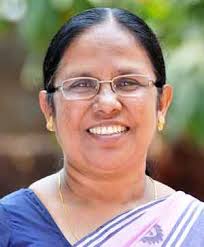 Thiruvananthapuram, Jun 1  :Kerala Government will take the lead role in the campaign for making the state tobacco-free, Health Minister K K Shylaja said.
The Minister also announced some immediate steps to move in this direction on the World No Tobacco Day (WNTD).
Highlighting the significant achievement of over 8 per cent reduction in overall tobacco use among adults in the state, as revealed in the second edition of the World Health Organisation's Global Adult Tobacco Survey (GATS -2), the Minister said all Government health institutions including those in the AYUSH sector will be made tobacco-free.
Infrastructure for tobacco cessation would be enhanced by starting clinics in all the Family Health Centres and AYUSH clinics, besides integrating tobacco control with 'Swaas' under the 'Aardram' programme of the Government, Ms Shylaja said here on Thursday evening.
"Increasing use of tobacco products amongst our youngsters is an area of concern," the Minister said, and called for a war against drug-laced candies that are now easily available to students and youngsters.
Kerala's cricket sensation Sanju V Samson, who was the star attraction at the event organised jointly by Government agencies and civil society groups to mark the day, affirmed that he will refuse any tobacco products endorsement offers, triggering a loud applause from the audience.
He called upon children to develop the mental strength to be able to say a strict "no" to tobacco.
Samson also led a pledge against tobacco use and appealed to all participants to put the oath into practice. "Pledge to protect at least two of your friends from tobacco," he exhorted the youngsters present on the occasion.
Inspector General of Police P Vijayan pointed out that India has over 40 crore children below the age of 15. "If groomed correctly, these youngsters can be shining ambassadors for the country, else India would have to take the blame for creating a generation with eroded values," he cautioned.
A committed tobacco control advocate, Mr Vijayan added that it is important to give the needed support to youngsters prone to tobacco use, rather than condemning them.
UNI.