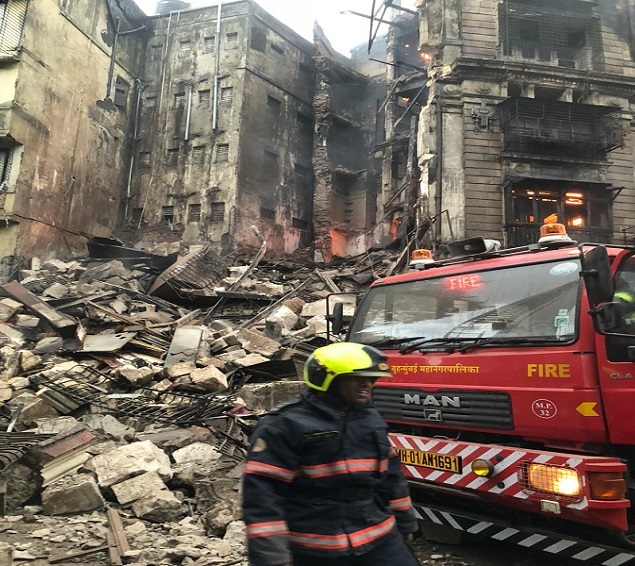 Mumbai, June 9 :A major fire broke out in an old unoccupied building in South Mumbai early Saturday and a part of it collapsed, injuring two fire brigade personnel, an official said.
The fire brigade personnel were injured when a portion of the building, called Kothari building — also known as the Light of Asia — collapsed during the fire-fighting operation, he said.
The fire in the five-storey building, which is unoccupied for the past five years, broke out at around 0430
hrs, the official said.
The official stated that serious tragedy averted as a group of firemen involved in firefighting operation had moved to safe distance just before the portion of the building collapsed on the two fire vehicles where they were standing. They sustained minor injuries in the incident and were admitted to a hospital.
Fire official said no one was trapped inside the building.
The firemen had put 16 fire engines into firefighting operation to ensure that it should not spread in neighbouring buildings. They managed to control the fire after three hours of struggle.
Assistant Municipal Commissioner Kiran Dighavkar said, 'The fire started from second floor of the building after which half of its portion collapsed.'
BMC with the help of Mhada may demolish remaining portion of the building. The building is situated on a busy road outside CST railway station, and BMC deployed vehicles and labourers to transfer the building debris to another location to avoid inconvenience to motorist.
UNI.