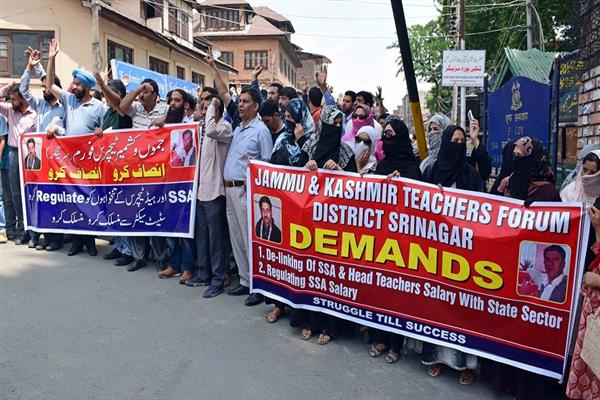 Govt says seriously working to find solution
Srinagar, Jun 09 : The Sarva Shikhsha Abhiyaan (SSA) teachers on Saturday staged protest at various places across the Valley against the government for failing to fulfill their demands.
The teachers at various places including Anantnag, Baramulla and Srinagar hit the streets t protest in favour of their demands.
In Srinagar, the SSA teachers assembled at Pratap Park and chanted slogans in favour of their demands.
The protesters were demanding de-linking of their salaries and release of their monthly honorarium withheld from past several months.
"We want our salaries to be streamlined. We don't want to take streets against the government and make the education suffer, but the government has left us no stone unturned to make teachers suffer without any reason," they said.
They said that the government has utterly failed to release their salaries from past three months, forcing them to hit the streets to press for the demands. "We are facing immense hardships as the government is ignoring our plights. We appeal the government to fulfill our demands at an earliest," they added.
"We are being humiliated by the government as if we are inferior class of teachers. We won't take this anymore. If our problems are not solved, we will launch a state-wide agitation," he said.
The protesting teachers said that despite performing their duties in far flung areas they were facing huge problems due to non-release of their salaries. "The government talks high about quality education but how can we provide so when we remain mentally disturbed for want of money," they said.
"Despite assurances by the education Minister's, nothing has been done for our demands," the protesting teachers said, adding that the government must fulfill their promises and must fulfill our demands at an earliest so that thousands of families could heave a sigh of relief.
Meanwhile, like other districts including Budgam, Baramulla, a similar demonstration was organised by Teachers Forum Anantnag and SSA teachers, urging govt to delink the salaries of SSA teachers.
The protest march which started from Sports Stadium Anantnag ended at Deputy Commissioner's office.
The protesters later submitted a memorandum before DC Anantnag.
Talking to media, District Teachers Forum president, Showkat Ahmad said that they will lockdown the schools in case their demands won't meet.
Meanwhile, Government today said urged the Sarva Shikhsha Abhiyaan (SSA) to avoid the path of protests as the government is well aware about their issues.
In a tweet, the Minister for Education, Choudhary Zulfikar Ali said that the dispensation is seriously working to find an appropriate full time solution to your issues.
"SSA Issue: I request all concerned to avoid the path of protests as Govt is well aware about your issues, and is seriously working to find an appropriate full time solution to your issues. In this regard, I only a few days before had a detailed meeting with Union Ministry of HRD," Minister tweeted.