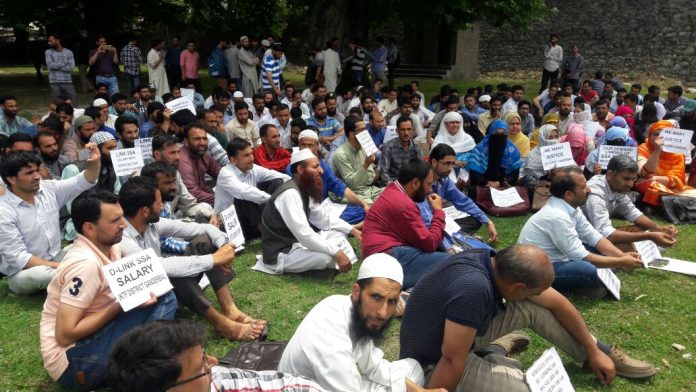 Ganderbal: protest of Sarva Shiksha Abhiyan (SSA) and General Line Teachers was organised in cental Kashmir Ganderbal 
on Saturday
 against the government for failing to fulfill their demands.
Under the banners of The United Forum teachers from all zones of Ganderbal district hold protest and shouted slogans against the government.
The protesting teachers threatened to lock the schools if their demands of de-linking their salaries was not fulfilled and salaries were not regularized.
The teachers were demanding streamlining of salaries of SSA teachers and release of pending salaries. The protesting teachers said that the government is forcing them to face hardships as the dispensation has utterly failed to take up their issues and fulfill their demands. "Despite assurances by the education Minister's, nothing has been done for our demands," the protesting teachers said, adding that the government must fulfill our demands at an earliest so that thousands of families could heave a sigh of relief. "Despite various schemes including SSA, RMSA and others and has reduced the funds, affecting the salaries of SSA teachers. We demand the government to delink our salaries so that we will get salaries on time," the protesters said.