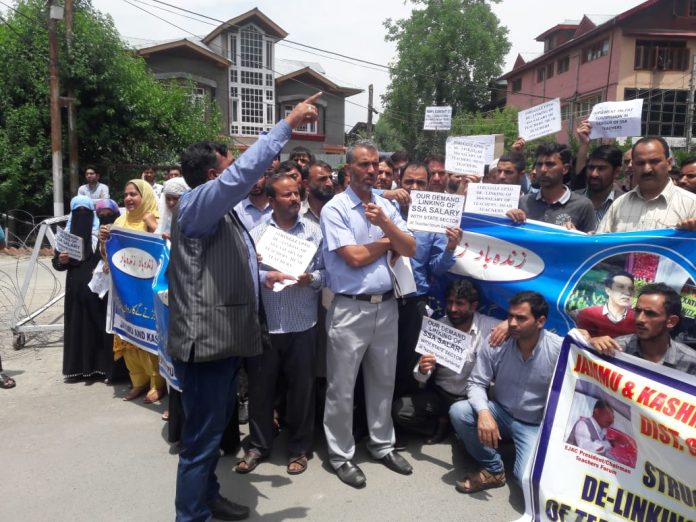 Will fight for ReT teachers rights: MLA Ganderbal
Ganderbal: SSA teachers of district Ganderbal Saturday staged protests to press for their demand of de-linking  of SSA salary and benefits of 7th pay commission.
The protesting teachers assembled in Central Eidgah Duderhama and demanded delinking of their salaries from MHRD  and benefits of  7th pay commission.Holding placards in their hands and raising slogans in favour of their demands, they expressed strong resentment against the government for not fulfilling their demands.
Starting from Eidgah Duderhama the demonstration ended in Mini Secretariat Ganderbal and later on a memorandum was presented to Deputy Commissioner Ganderbal by the protesting teachers.
MLA Ganderbal and NC  District President Sheikh Ishfaq Jabbar  also participated in the protest.
He addressed the gathering and reiterated that the I will fight for ReT teachers upto logical conclusion.
Asking the Govt stop victimizing the Teachers, as that, they deserve the same facilities & treatment as other employees of the State enjoy Ishfaq added and said Govt to release their salaries in view of the auspicious occasion of EID Fitr ensuring that their families to participate in Eid celebrations. He also appeals Governor of J&K to intervene in the matter.
He said this is highly condemnable and unfortunate that their monthly salaries were being delayed from time to time, causing agony and anguish to the teachers and their families.
Ishfaq said that SSA Teachers must get the benefits of 7th Pay Commission, which is being denied to them for the reasons known to the Government.
Denying 7th Pay Commission benefits to SSA Techers would be a great injustice on the part of State Govt, Ishfaq said.
Demanding that the State Government devise a robust mechanism to streamline salaries of SSA teachers the NC MLA said, "ReT teachers should not be seen as a burden instead they are an asset who have made education possible in the remotest corners of the state. The least government can do for them is to ensure that these teachers get their salaries on time without any hassles."
Ishfaq expressed solidarity with agitating SSA teacher and assured that the National Conference will continue to support their just cause, as in the past.