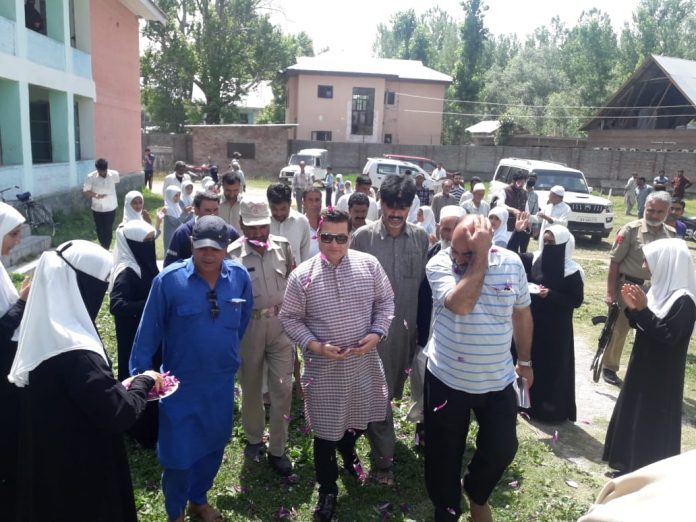 Pandits integral part of Kashmiriyat: Ishfaq
'People express gratitude for upgradation of High School'.
Ganderbal:NC legislator from Ganderbal Assembly segment in Ganderbal district, Sheikh Ishfaq Jabbar today visited  Tullamulla and assured the people that  under that he is committed to fulfill the agenda of peace development that he has promised to people.
People of the area welcomed  the MLA with garland of flowers and expressed their gratitude for upgradation of GHS Tullamulla to the level of Higher Secondary.
While addressing a large gathering of people  Ishfaq  said that it was due to the strong support of the people that I have been able to accomplish various developmental projects in the area.
He added that upgradation of High School to Higher Secondary School has fulfilled a more than hundred year pending demand of the people of the area and establishment of Higher Secondary at Tullamulla would also bring Higher Education at the door steps. MLA Ganderbal released 3 Lacs for infra development for GHSS Tullamulla out of his CDF.
MLA Ganderbal also paid visit to Ziyarat Hazrat Mir Baba Hyder (RAH) and released 6 Lacs for the fencing of graveyard out of his CDF.
MLA also took stock of the arrangements made by the administration for the pilgrims and for smooth conduct of annual Mela Khirbhawani.
The MLA while interacting with devotees said the Khirbhawani Mela has over the years become a source of reunion for Kashmiri Pandits following their mass migration from the valley in early 1990s. He said it also serves as a reminder of communal harmony between Muslims and Kashmiri Pandits.He further said that Kashmiri Pandits are integral part of the culture and ethos of Kashmir and Kashmiriyat.
During the visit the MLA gave a patient hearing to the demands and grievances raised by the locals during which he assured to redress them at an earliest.
The MLA was accompanied by CEO Ganderbal  and other heads of the departments concerned during the visit.