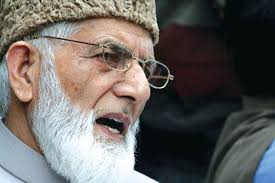 Srinagar: Terming Kashmir dispute as "above the Indian constitution", Hurriyat Conference (G) spokesperson G. A. Gulzar in a press release Tuesday said that the only acceptable solution to this vexed issue lies in the compliance of the United Nations Resolutions on Kashmir.
Elaborating the "crystal clear" stand of its faction of Hurriyat Conference, the spokesperson said that the five point formula presented by Hurriyat Conference in 2010, provides a baseline for any dialogue with India. The spokesperson further clarified that this formula lays down the criteria that "unless India accepts Kashmir as a dispute, it would be an exercise in futility to talk about meaningless bilateral talks with India".
The spokesperson blamed India it "suffers from arrogance of power so its leadership is hell bent to issue declarations to kill the people of Kashmir by tagging them as stone pelters".
The spokesperson while regretting this inhuman attitude to kill people for demanding their basic right, the statement added that Kashmir history has witnessed dozens of "Jalianwala Bagh" massacres, but have not succumbed to any tyranny.
Terming such repressive and oppressive measures as a permanent policy of "Indian state terrorism" for the last seven decades, the Hurriyat (G) spokesperson said "about six lakh people have been martyred, lakhs of people incarcerated and tortured ruthlessly in interrogation centers, thousands have been victimized with extrajudicial killings, thousands of youth have been rendered disabled, the chastity of women bruised and is used as a war strategy while property valued at billions and billions of rupees has been damaged."
The spokesperson said that these exemplary sacrifices have not been offered for any political adjustment within the Indian constitution but for the fulfillment of achieving right to self-determination. The spokesperson strongly rejected any such proposal of entering into a bilateral dialogue process with India.(Agencies)