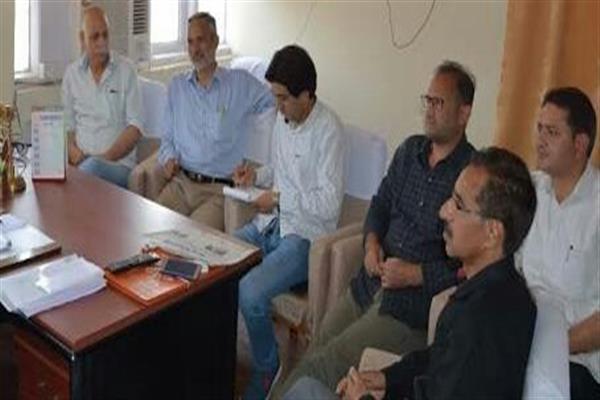 Demands rationalization of advertisements, revoking of ban on DAVP advertisements
Srinagar Jun 12 : A six-member delegation of Jammu and Kashmir Editors Forum (JKEF) Tuesday called on Governor N N Vohra and discussed various issues confronting the media industry in the state.
The delegation apprised the Governor about the difficulties being faced by the media industry in the state and sought his intervention. The Forum placed on the record the appreciation for his efforts to bring the Advertisement Policy of 2016 and pointed out that despite many pronouncements it was not being implemented. While the Forum extends support for its implementation, at the same time it brought into his notice that it had been changed arbitrarily without taking stakeholders into confidence. "We are thankful to your good self for the much-awaited Advertisement Policy which could be possible only because of you being at the helm.  The impression given is that the Advertisement Policy of 2016 is in vogue but that is not the case. The department has been arbitrarily distributing the advertisements and most of the newspapers are being chocked" reads a memorandum submitted to the Governor. "Many newspapers have been closed down and hundreds of people rendered jobless. If the Advertisement Policy has been implemented, then it is to be done in a holistic manner. We welcomed categorization of newspapers no matter how this would affect us. But this was not reciprocated and instead we are chocked and given a feeling that all except few newspapers are "junk"" it added.
The Forum members also highlighted the discriminatory and partisan approach of the government in distribution of advertisements and adopting a policy of pushing majority of newspapers to the wall. "We have been publishing newspapers for last over many decades and as part of welfare state we are supposed to be supported by the government as we provide employment to thousands of the people. But the way the department has treated us we are at the brink of the closure. The discriminatory attitude has left us in deep crisis" said the Forum in the memorandum.
The delegation sought Governor's intervention in putting an end to the policy of Directorate of Audio Visual Publicity (DAVP) of Government of India which was lopsided. They also urged him to get the ban on the DAVP advertisements in respect of three newspapers revoked as there was no justification to discriminate like this. The Forum sought the status of industry to the media so that it is benefitted with the schemes of the government.
The Governor gave a patient hearing to the delegation and lauded it for being inclusive as far as the three regions of the state viz Kashmir, Jammu and Ladakh is concerned. He stressed upon the media fraternity to work for the unity of the state.