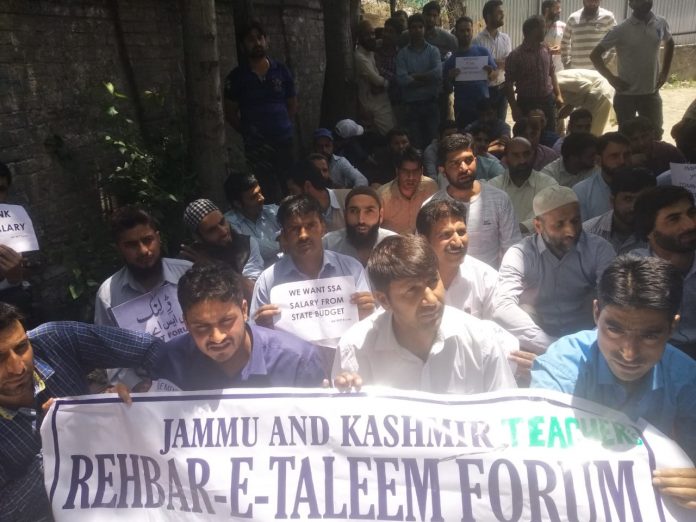 Threaten to Observe Eid As Black Day
Ganderbal:Demanding release of pending salary and implementation of 7th pay commission and linking of their salaries with the state budget, dozens of SSA teachers Monday staged a sit-in protest outside the Zonal Education offices of the four zones of the district  here.
Shouting slogans against the government for failing to fulfill their demands, the teachers staged protest under the banner Jammu and Kashmir Rehber Taleem Teachers' Forum District Ganderbal.
Chairman Jammu & Kashmir Rehber Taleem teachers Forum  F A Tantray while addressing the gathering of teachers in Zone Tullamulla and Hariganwan said ," If we were treated as state employees when 6th pay commission was implemented then why are we denied benefits of 7th pay commission.
He further said if our demands were not met before EID we have decided to observe Eid as black day and stage a sit in at Pratap Park Srinagar to register their protest against the government.
One of the agitated Teacher said government is forcing them to face hardships as the dispensation has utterly failed to take up their issues and fulfill their demands.
Tanveer Ahmad, a teacher stated that despite assurances by the Education Minister, nothing has been done to meet teachers' demands.
He added government must fulfill their promises or face agitation .
Another teacher, Reyaz Ahmad alleged that government has double standards when it comes to teachers.
"We are forced to come on roads during the sacred month of Ramdhan," he said, adding: "We are being humiliated by the government. We won't take this anymore.
The protesting teachers said that despite performing their duties in far-flung areas they have been facing huge problems in absence of their salaries. They said they were forced to borrow money from their friends and relatives to meet their expenditures.
The SSA Teachers have been on a collision course with government ever since they were excluded from benefits of the 7th pay commission and demand of de-linking of SSA salary.