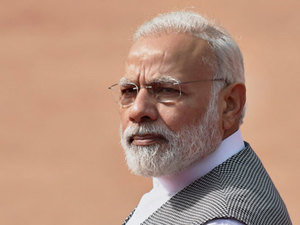 Bhilai, Chhattisgarh, June 14 : Prime Minister Narendra Modi today said that the National Democratic Alliance Government has built an atmosphere of confidence thereby connecting a record number of youths to the development process by bringing them to the mainstream in the past four years.
"Development builds confidence and ends violence. Therefore, the Centre and the Chhattisgarh regime had endeavoured to create an atmosphere of confidence through development," said Mr Modi while addressing a public meeting after dedicating modernised and expanded Bhilai Steel Plant here.
On the occasion, the Premier also laid the foundation stone for the campus of IIT Bhilai, unveiled a plaque to mark the commencement of phase-2 of BharatNet, launched a flight service from Raipur to tribal-dominated Jagdalpur under the Centre's 'Udaan' Yojana, distributed laptops to students and provided certificates to certain beneficiaries of various government schemes as a symbolic gesture.
Earlier, Mr Modi visited Naya Raipur Smart City, where he inaugurated the Integrated Command and Control Centre.
"I am dedicating a gift of more than Rs 22,000 cr to my brothers and sisters in Chhattisgarh. These schemes are going to generate opportunities for education and employment, provide means for modern transport and connect far and remote areas in Chhattisgarh with modern communication system," he said.
More UNI.