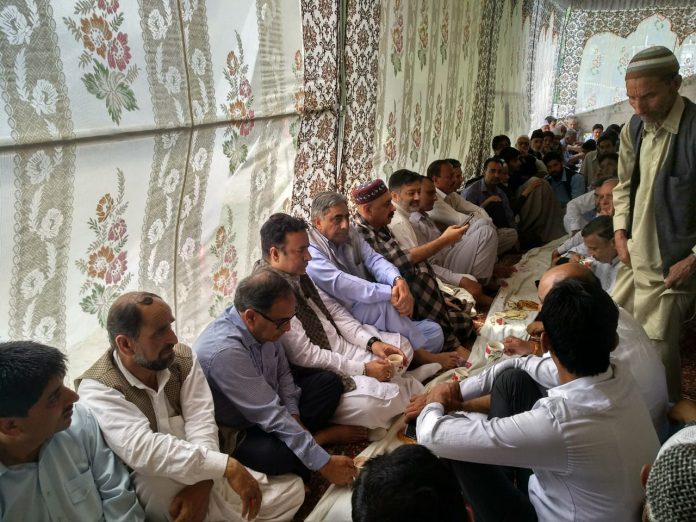 Baramulla (Kreeri), June 18: Jammu and Kashmir Adab-e-Markaz Kamraz today organizes a grand condolence meeting  under the chairmanship of the noted poet and literateur Prof. Rehman Rahi in connection with Rasm-e-chahrum of Dr Syed Shujaat Bukhari who was killed on Thursday by unknown assailants in an attack at Srinagar's press colony at his native village Kreeri of Baramulla district.
On the occasion, renowed personalities including poets, writers and various others associated with the forum paid rich tributes for the deceased besides highlighting various aspects of his life. They signified his contributions and said that such a personality has brought about revolutionary changes in the field of journalism besides terming him as an icon for younger generation.
Meanwhile various stakeholders including Rajya Sabha Member and former CM of the state Gh Nabi Azad, Ministers, legislators, senior politicans, journalists, representatives of various editor guilds, various religious and community leaders,  businessmen and other prominent sections of the society visits the family and expressed their  heartfelt sympathies for the tragic loss.
Prof Rehman Rahi, during his address said that Sujahat Bukhari was well known  for his  innovations and   highlights his services in bringing about positive changes in the society. He said that Sujahat was the icon of truth who never compromised in revealing the core of reality. Moreover Prof Rahi lauded his role in promoting the
Earlier Qoranic recitations were organised  during which special prayers were held for him and his family to bear the irreparable loss.