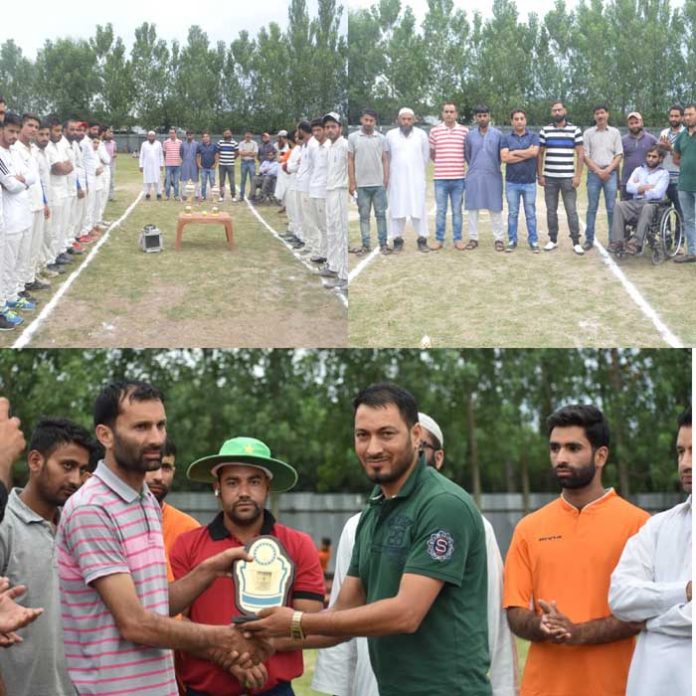 Pattan: In today's final of Ali Memorial cosco Tournament Valley Friends Goshbugh beat Palhallan Tigers by 7 wickets.
Batting first Palhallan Tigers managed to score only 41 runs for the losof 7 wickets in 10 Overs
In reply valley friends Goshbugh Chased the low  score very comfortably 42 Runs for the los of 1wicket  in 6.1 overs. Muzaffar Wani  Awarded Man of the match for his good knock of 28 Runs
Man of the Tournament Awarded to Adil for his allround performance of 13 wickets & 27 runs in the Tournament from Palhallan Tigers. Best Batsman of The Tournament goes to Muneer Ahmed from Mariya Cricket Club Goshbugh  Best blower of the Tournament Awarded to Mosin from Jnr. Mariya Cricket Club Goshbugh. Meanwhile,KPS reporter Shabroz Malik awarded 37th time in Kashmir Press Service (KPS) reporter, Shabroz Malik was on Tuesday awarded 37th time with best sports news reporter from North Kashmir by Goshbug Cricket Association in a final match valedictory.  Shabroz Malik was felicitated with trophy and appreciation certificate for his tremendous contribution in sports coverage from North Kashmir.
 "I am committed with my profession and will continue to so, Shabroz Malik while receiving award said and added that he thanks almighty Allah for all the respect he receives from the administration or from public.