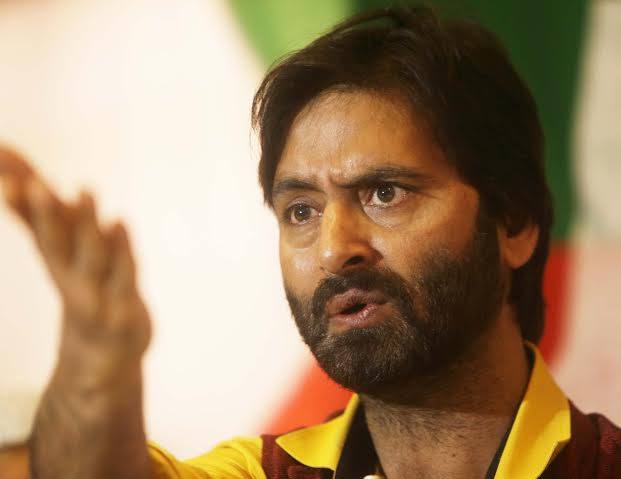 'Unrelenting massacre of Kashmiri innocents is disgraceful'
Srinagar, Jul 10 : Incarcerated chairman of Jammu Kashmir Liberation Front (JKLF), Muhammad Yasin Malik has condemned the 'terrorist attacks' of Indian forces that resulted in killing of five Kashmiris including three unarmed civilians at Kundalan Shupian and Nadihal Rafiabad.
"Unrelenting massacre of Kashmiri innocents and criminal silence of humankind on it is disgraceful and disgusting. Under the camouflage of democracy, Indian state is doing what can shame Hitler and Genghis Khan too. From Shupian to Rafiabad the story of tyranny and Military oppression is a glaring proof of this Indian terrorism," Malik said in a statement issued to KPS.
Malik who along with Tehreek Hurriyat leader Umar Adil Dar remains in police custody from 6th July 2018 and is lodged at police station Kothibagh while strongly condemning today's firing by Indian Army and SOG on innocent Kashmiris at Kundalan Shupian which resulted in killing of yet another Kashmiri child Tamseel Ahmad and many others, said that it seems that Indian colonist forces at the behest of their political masters have decided to accelerate their Killing machine in Kashmir and kill whosoever comes their way or challenges their brutality.
Malik said that besides killing Tamseel Ahmad, another civilian Muhammad Ishaaq Naikoo also lost his life of heart attack because of Indian terrorism and an injured youth from Rafiabad namely Ubaid Manzoor also succumbed to his injuries and embraced martyrdom today.
He said that Indian State is unrelentingly massacring Kashmiri innocents but ironically International community especially those who used to champion Human rights and human values are maintaining a criminal silence on this which is disgraceful and disgusting.
He said that that under the camouflage of democracy, Indian state in Kashmir is doing what are shaming Hitler and Genghis Khan but champions of Humanity and human rights keep enjoying deep slumber which is actually horrible.
Incarcerated JKLF chief said that spree of Killings, arrests, choking of peaceful political space, vandalizing whole localities under the garb of CASOs and other oppressive measures can never force Kashmiri nation into submission.
"In fact these tyrannical acts have turned Kashmiris more passionate and resilient and our march towards Freedom and Self–determination will continue till the achievement of the desired goal," he said.
While expressing solidarity with all those whose dear ones fell to the oppression of India today, Malik prayed for their heavenly abode.
Meanwhile, JKLF expressed grief and sorrow over the sad of Afroaz Hussain Wani of Untabhawan and Master Ghulam Ahmad Paul of Ompora Budgam who left of heavenly abode recently.
The deceased was brother of veteran journalist Altaf Hussain Wani while as Master Ghulam Ahmad Paul was a famous social figure of his area.
Expressing solidarity with the families of both the deceased, JKLF has prayed for the heavenly abode of the both.