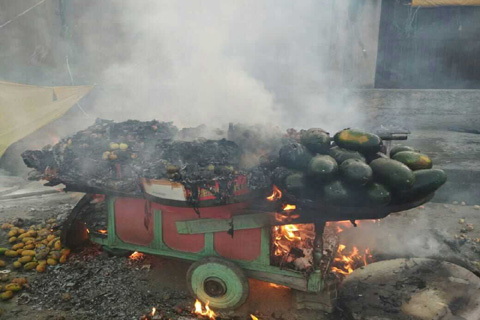 Srinagar, 12 jul: Police refute reports of torching vending carts during Soura clashes
Jammu and Kashmir Police on Thursday denied the allegation that government forces torched the vending carts during clashes in Soura area of Srinagar last evening.
"Some media houses and few other news portals have carried a news story where they have blamed Security Forces for setting vendors carts ablaze in Soura. However, the concerned police officials rebutted such reports," said a police spokesman, in a statement.
He said the Srinagar police has already issued detailed statement regarding the sequence of events of the incident where "miscreants set ablaze handcarts of fruit vendors and also damaged fencing around trees and road dividers."
Last night, pictures of the carts set ablaze during the clashes between the forces and protesters had gone viral on social media. While the locals had reportedly blamed the government forces, the latter denied the allegation.(Agencies)