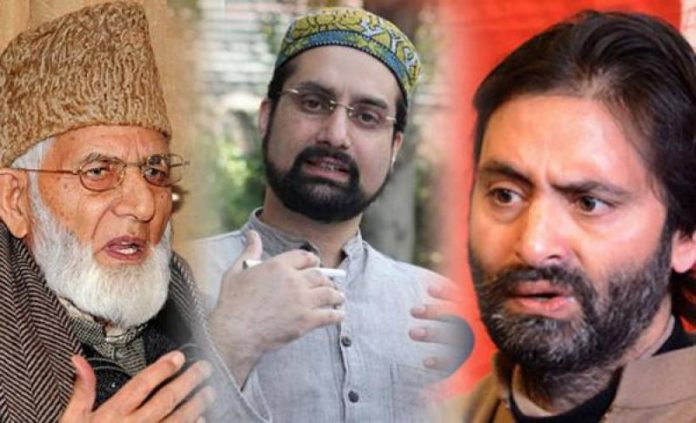 Srinagar, Apr 13 : Hurriyat Conference (G) 
on Friday
 staged protest against the civilian killings in Khudwani area of Kulgam on the call given by Joint resistance Leadership (JRL).
Spokesman in a statement issued to KPS said that peaceful protests after congregational Friday prayers were held in Kashmir valley.
Earlier resistance leadership including Syed Ali Geelani, Mirwaiz Umar Farooq and Mohd Yasin Malik had called people to register protest against killing of civilians in Khudwani Kulgam, Shopian, indiscriminate use of pellets and vandalizing properties.
Voicing serious concern over the spree of killings at the hands of Indian troops, leadership and people from all corners reiterated that the policy of oppression can't deter people from pursuing the sacred movement.
Demanding immediate halt on innocent killings and arbitrary measures perpetrated by Indian forces, they appealed world human rights organization for their cognizance and impressed to raise their voice and come to the rescue of subjugated people in Kashmir.
The resistance leaders and people in an unanimously declared that if forces are not contained, people from all corners of valley will come up with stiff resistance and local stooges and their masters will be responsible for the situation rising thereof.
Statement said that Hurriyat Conference organized a peaceful protest at Hyderpora Srinagar against the killing spree and besides large number of people and leadership including Syed Mohammad Shafi, Rameez Raja, Mudasir Ahmad, Sajad Ahmad Mir, Abdul Ahad, Sajad Ahmad Pala, Ishfaq Ahmad Khan, Gowhar Ahmad and Mohammad Umar and other participated.
Addressing protestors and people, the leadership said that the growing Indian aggression against unarmed and peaceful people in state has touched the alarming line and turned this beautiful place into a battle field. Under well thought out plan the Indian authorities, forces and their henchmen are carrying genocide, they said.
Referring to recent killing spree, the leadership said that Kashmir has been turned into a killing field where the lives of men, women and even children are not safe".
killings in Khudwani Kulgam and Shopian is worst form of state sponsored terrorism, leaders said and added that authorities are desperate to cover their gruesome and inhuman acts and shielding criminals under the garb of "Mistaken identity, cross firing and stray bullets".
They have declared war on civilians, said they and strongly condemning the indiscriminate use of pellets against civilians, saying that hundreds of youth were the victims of a deadly weapon used nowhere else in the world, saying the fact remains unchanged, Kashmir is the only place in the world where these weapons are used against human beings,".
The Leaders expressed their deep anguish over the continuous silence of international community and said that though several resolutions were accepted in UNO to resolve this long pending issue, however no steps were initiated and added that to make an end to hostilities in sub-continent international community should take concrete political steps to resolve this longstanding Kashmir dispute.
Since last seven decades hundreds of thousands of people were killed, resistance leadership and youth caged, hundreds blinded and maimed, properties worth billions destroyed, more than ten thousand disappeared in forces custody and still there is no let-up in killing and atrocities, said leadership.
Lamenting Delhi groomed henchmen for their rhetoric about so-called democracy and freedom of speech, the leaders said that their tall claims about freedom of expression and democracy stand exposed as they didn't dare to face pro-freedom leadership and resorted to vandalism, arresting leadership, imposing restrictions, bullying and denying political space to leadership.
The Leaders ridiculed authorities for turning entire whole state into a "battle field" saying killing innocents, coining "cross firing and stray bullet like theories", caging people and leadership simply exposed their tall claims about transparency and their rhetoric regarding democracy was deflated."
Leaders appealed Amnesty International, Asia Watch, and other international organization for human rights to break silence and take cognizance of the plight of suppressed and oppressed people in state of Jammu and Kashmir and urged to fulfill their obligations in accordance with human rights specified for world community.