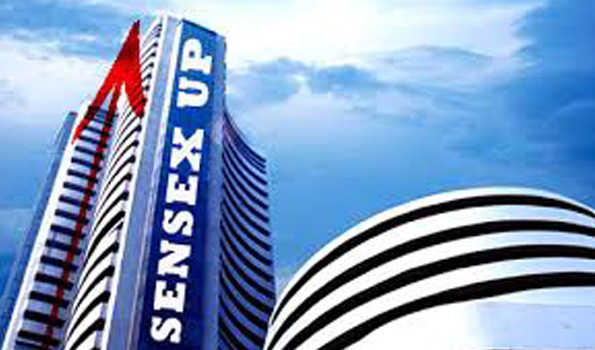 Mumbai, Apr 18 : The benchmark index of Bombay Stock Exchange (BSE) on Wednesday advanced 87 point 62 points to 34,482.68.00, on positive global leads and sustained buying by domestic institutional
investors.
The Nifty of National Stocks Exchange (NSE) too advanced by 18.80 points to 10,567.50.
The sensex registered intra day high and low at 34,505.19 and 34,356.76 points respectively.
The Nifty recorded intra day high and low at 10,579.40 and 10,539.55 respectively.
Sectoral indices, such as FMCG, Heaithcare, Auto, Capital goods Metal, Power Realty, and Teck stocks, were trading in the positive territory.
While IT Bankex Cconsumer Durables and Oil& Gas were trading in negative territory. The gainers were ITC by 2.86 pc to Rs 275.40, Wipro by 1.54 to Rs 289.90, Bharti Airtel by 1.48 pc to Rs 386.95, Yes Bank by
1.33 pc To Rs 312.05 and Tata steel by 0.56 to Rs 599.20.
The losers were Coal India by 0.94 pc to Rs 284.90, M&M by 0.90 pc to Rs 802.35, Axis Bank by 0.61 pc to Rs 529.30, Kotak Bank by 0.57 pc to Rs 1158.50 and Indusind by 0.39 pc to Rs 1860.30.