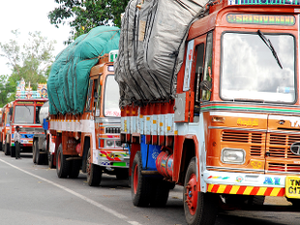 23rd April:The government on Monday said four new states and one union territory will switch over to the e-way bill system for intra-state movement of goods from April 25.
As per the decision of the GST Council, the e-Way Bill system for intra-state movement of goods was rolled out on April 1. As on April 20, at least twelve states have adopted the new system across the country. Among these are Andhra Pradesh, Bihar, Gujarat, Haryana, Himachal Pradesh, Jharkhand, Karnataka, Kerala, Telangana,Tripura, Uttarakhand and Uttar Pradesh.
According to the government, e-Way Bills are getting generated successfully with the total number of generated bills standing at 1.84 crore until April 22. Out of this, more than 22 lakh bills were generated for intra-state movement of goods.Arunachal Pradesh, Madhya Pradesh, Meghalaya, Sikkim and Puducherry are among the states that will implement e-way bill from April 25.
"The extension of the intrastate e-way bill to few more states indicates that the system has stabilized. However, we will have to wait for its introduction in the large states of Maharashtra and Tamil Nadu. The rapid expansion of the e-way bill would also result in an expansion of the tax base and tax revenues," said MS Mani, Partner, Deloitte India.