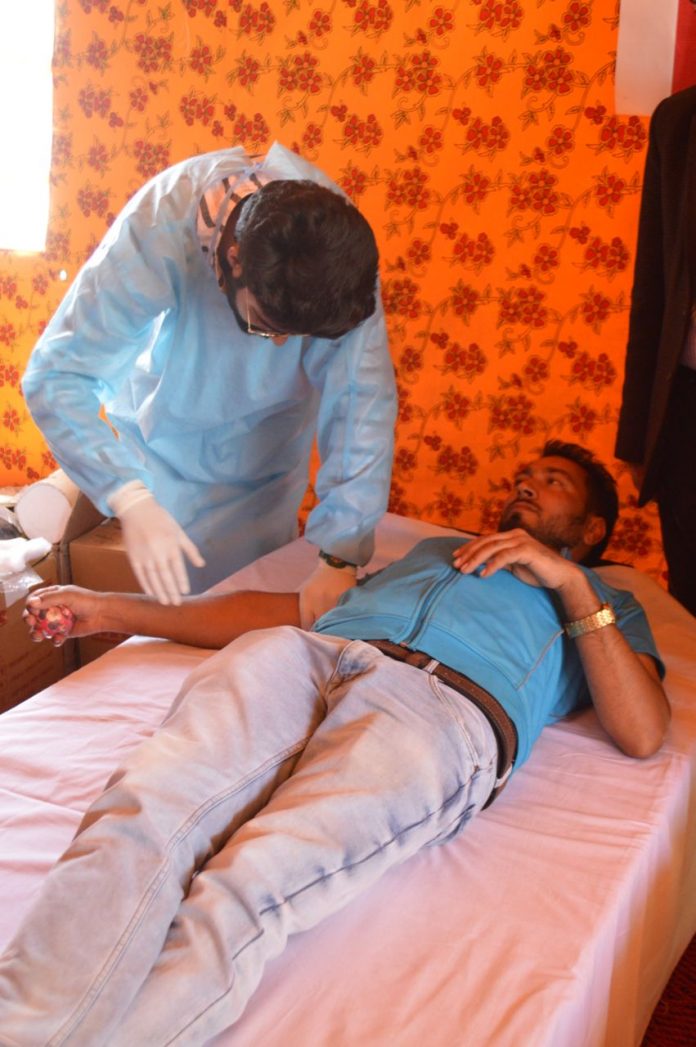 Shabroz Malik
                                                                                                                              Pattan: Three day long Health profiling, checkup and blood donation camp is being organized by IRP-20th Battalion with Directorate of Health Services Kashmir from 
April 25 to 27
  APC Parihaspora.
The camp is exclusively meant for the Police officers/men of three Battalions stationed at APC Parihaspora.
The aim of the camp is to provide basic Medicare & diagnostic checkups to the Police personnel at the door step who are otherwise unable to get regular health checkups done due to the hectic schedule of their duties as a welfare measure.
The camp was inaugurated by Baqar Samoon, SSP Commandant IRP-20th Battalion and Dr. Masrat Iqbal BMO Pattan today 
on Tuesday
 in presence of officers/men of the three units. A team of specialist doctors from SDH Pattan are available for conducting basic health checks like BP, blood profiling, ECG besides counselling and other medical checkups at APC Parihaspora on the Spot. Free medicines shall also be provided during the camp.
Dr. Masrat Iqbal in his lecture advised the Police personnel to take part in stress management programmes and ensure regular medical checkups to stay physically fit. Baqar Samoon, SSP highlighted the welfare measures being taken by the department for the officers/jawans. He advised the Police personnel to avail the said facility being available at their Battalion Headquarters. He assured the Police personnel that such camps shall be organized in future also.
On the concluding day, a Blood donation camp shall also be organized side by side on 
27.04.2018
. Baqar Samoon, SSP emphasized upon the officers/jawans to come forward and perform their social duty also by donating blood voluntarily to help needy people to save their lives.
The present camp was part of the free medical camp which was organized by this unit on 
March 13
 with Directorate of Health Services Kashmir in which a team of specialist Doctors from District Baramulla were invited who checked-up and treated the general public of the surrounding villages and Police personnel but the diagnostic/screening facilities were not extended to the Police personnel during the said camp.
Baqar Samoon, SSP in his speech thanked Dr. Saleem-ur-Rehman, Director General Health Services Kashmir, Dr. Bashir Ahmad, CMO Baramulla, Dr. Masrat Iqbal, BMO Pattan, Doctors and all other concerned staff of health department for giving their precious time and cooperation in organizing the Health checkup/Blood donation camp. Meanwhile reporter Shabroz Malik and businessman Farooq Mir also donated blood on the occasion.