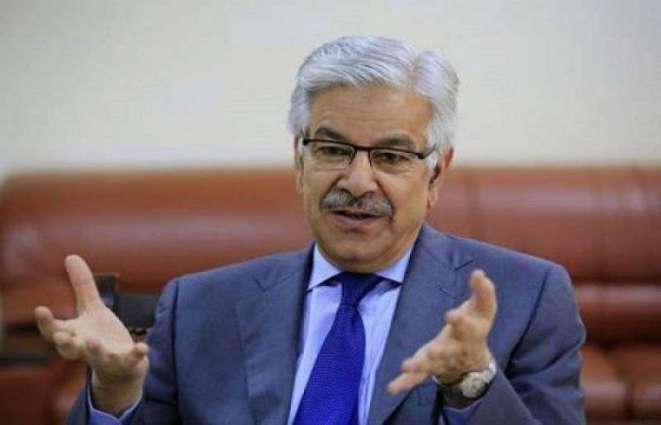 Pakistan 26 apr: Pakistan's foreign minister Khawaja Asif has been disqualified by Islamabad High Court on the petition of PTI's Usman Dar, who lost 2013 election against Asif in NA-110.
A three-member bench of the Islamabad High Court headed by Justice Athar Minallah announced the verdict at 2:30pm Thursday on a petition filed by Pakistan Tehreek-e-Insaf leader Usman Dar.
Justice Athar Minallah read out the ruling. The minister was disqualified under Article 62 (1)(f) of the constitution for holding an Iqama (work permit) in the United Arab Emirates.
Khawaja Asif was not eligible to be elected from NA-110, ruled the court, saying it does not like to exercise power to disqualify the public representatives.
The court said the parliament is a symbol of the federation's unity and it deserves to be respected.
People's confidence in the parliament is dependent upon the character of its members, said the court in its verdict.
The political forces should tackle their mutual issues on a political forum, as the litigants' time is wasted if such matters are brought before the court, according to the ruling.
The court directed the IHC registrar to dispatch the copy of verdict to Election Commission of Pakistan.
The IHC reserved the verdict on April 10.
On April 13, the Supreme Court clarified that lawmakers will never again be able to hold public office if they are found guilty of violating Article 62 (1)(f) or were found not to be righteous and honest.
Khawaja Asif decides to challenge verdict
Following the disqualification, the federal minister announced he would move the apex court against the IHC ruling.
PTI's reaction
"I thank God that struggle that I continued for last five years bore fruit at last," said the petitioner while talking to media outside the IHC.
"The credit goes to Imran Khan who encouraged me. I made up my mind to get Khawaja Asif moved out from the Parliament the day when he humiliated Khan on the floor of the house."
Nawaz Sharif and Khawaja Asif are national culprits, said Dar.
"Today, people of Pakistan and the PTI won," said another PTI leader, Fawad Chaudhry.
Khawaja Asif pleads not guilty
In his petition, Dar pleaded with the court to disqualify Khawaja Asif as he did not disclose Dubai bank accounts and continued doing his foreign job with an Iqamah (residence permit).
However, the federal minister pleaded not guilty. He also submitted a letter from the foreign company to the court. The letter states, "Khawaja Asif serves as legal adviser to the company. He is not a fulltime employee."
"The company's representative is willing to appear before the court to testify the facts mentioned in the letter," it added.