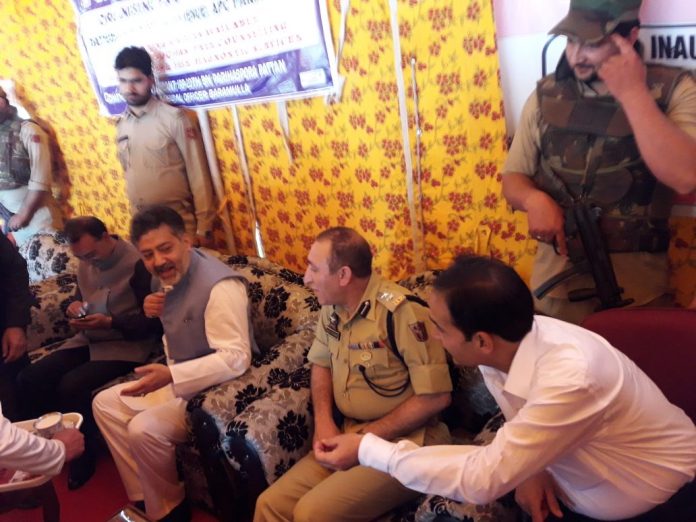 Pattan: Three day long Health profiling, checkup & blood donation camp which was organized by IRP-20th Battalion with Directorate Health Services Kashmir concluded today on 
27.04.2018
 at APC Parihaspora. The camp was exclusively meant for the Police officers/men of three Battalions stationed at APC Parihaspora. The aim of the camp was to provide basic Medicare & diagnostic checkups to the Police personnel at the door step who are otherwise unable to get regular health checkups done due to the hectic schedule of their duties as a welfare measure.
A team of specialist doctors headed by Sh. Masrat Iqbal BMO Pattan from SDH Pattan conducted basic health checks like BP, blood profiling, ECG besides counselling & the officers/jawans of three units stationed at APC Parihaspora availed the benefits.
During the course of three day long medical camp, 
27.04.2018
 was exclusively the day meant for counseling & educating the Police officers/officials regarding health care and its do's and dont's. A brain storming session was held   at APC Parihaspora in which specialist doctors spoke on different ailments and its remedial measures. The function concluded with mass blood donation by Police officers and men. The occasion was graced by Molvi Imran Raza Ansari Hon'ble Minister for Information technology, Technical education and youth services and sports J&K. Sh. Nasir Ahmad Naqash, DC Baramulla & Dr. Bashir Ahmad, CMO Baramulla, were also present on the event. In his speech, the Hon'ble minister stressed the officers/men to have regular such camps where their mental/physical health is profiled through technical and professional experts. He said that, I am happy that J&K Police has been instrumental in holding such medical camps for the benefit of its officers/men". On this occasion he congratulated DGP J&K Sh. S.P Vaid-IPS, ADGP Armed J&K Sh. A.K Choudary-IPS and IGP Armed/IRP Kashmir Sh. Shafkat Watali-IPS and other senior formations of J&K Police for organizing such welfare activities in collaboration with Directorate Health Services Kashmir.
The blood donation started with Hon'ble Minister Molvi Imran Raza Ansari followed by Sh. Baqar Samoon, SSP Commandant IRP-20th Battalion, Adjutant Sh. Nisar Hussain and other ranks of the unit. Sh. Samoon in his speech advised the Police personnel to generously donate blood for saving lives of people and said by organizing blood donation camps "we contribute our bit in savings somebody's life". He further said that it is high time that we spread awareness among the general public that apart from saving precious human lives, donating blood is good for our own health as well.
Sh. Samoon, thanked Hon'ble Minister for sparing his precious time for the event, Sh. Nasir Ahmad Naqash, DC Baramulla, Dr. Bashir Ahmad, CMO Baramulla and all other concerned staff of health department for their cooperation in organizing the Health checkup/Blood donation camp.