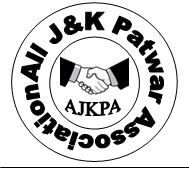 Srinagar: An emergency meeting of all J&K Patwar Association was held in its summer capital Srinagar. Meeting was Presided by Mr. Sajad Siddiq State President AJKPA and attended by all District President of Kashmir Province, Province Body Kashmir and its Province President Kashmir Mr. Fayaz Ahmad Baba and all the members of state body including Vice President Mr. Ab Majeed Mall, Secretary Jahingir Ahmad Khan, Cashier Showkat Rashid and Auditor General Ayaz Ahmad Wani and others.
In a press release issued by the AJKPA, Mr. Syed Danish Qadri General Secretary of the association said that AJKPA welcomes the decision of Ms. Mehbooba Government for implementation of 7th pay commission but its quite unfortunate that the assurances of the government of resolving grade pay issue/ pay anomaly of some 1200 graduate Patwaries was not fulfilled whereas government acceded to the demands of KAS officers association and civil secretariat union but none of over demands has been fulfilled as yet.
All the office bearers of AJKPA expressed their anger towards the government for giving a deaf ear to our demands.
Creation of administrative units is a joke without creation of patwar Halqas and GQ circles which could have provided relief to the common masses in real manner.
Direct recruitment of Naib Tehsildars has led the department to record low as these non revenue knowing officers have destroyed the work culture of the department. Non conducting
of DPC of Patwaries and Girdawars for last five years has almost destroyed the future of Patwar community and despite repeated plea we have been left to opt extreme ways to get our demands fulfilled.
Last time after four days token strike government promised us prompt action for redressel of our grievances but its seems the promises were nothing but a cheating.
Syed Danish Qadri castigated the government for its callous attitude and warned the government that AJKPA will come on streets to fight for its rights and we will not let our community to be exploited any more. If the government failed to keep its promise we will come on streets to fight for our rights.