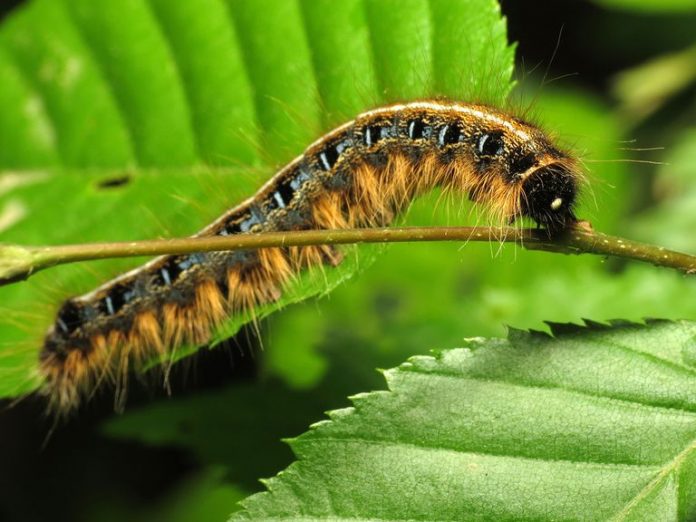 An outbreak of toxic caterpillars that can cause asthma attacks, vomiting and skin rashes has descended on London, officials have warned.
Oak processionary moths (OPM), which are in their larval stage, have been spotted across the south-east of England and in the capital.
Hairs on the caterpillars can cause fevers and eye and throat irritations, the Forestry Commission said.
The organisation has issued a caution not to touch the species.
The biggest infestations of OPM were recorded in Greater London, stemming from Kingston upon Thames to Brent.
Some infestations were also spotted in Bracknell Forest, Slough and Guildford.
OPM caterpillars were spotted emerging from egg plaques in mid-April, and trees were later treated on 23 April, the Forestry Commission added.
"The treatment programme is expected to continue until late May or early June," a spokesman said.
"After that the caterpillars will be too large to be affected by our preferred treatment product."
Precautions to minimise health risks:
Do not touch or approach nests or caterpillars
Do not let children touch or approach nests or caterpillars
Do not let animals touch or approach nests or caterpillars; or try removing nests or caterpillars yourself.
As a caterpillar, each OPM has about 62,000 hairs, which they can eject.Hairs that fall to the ground can be active for up to five years.The moths only live for two to three days in July or August.

It is thought that the moths were brought into the UK on trees imported from Europe for a landscape project.

A population of OPM established itself in the west London area in 2006.

Key identifying features of OPM:

Move about in nose-to-tail processions
Often form arrow-headed processions, with one leader and subsequent rows containing several caterpillars abreast
Are most likely to be found in oak trees, and sometimes on the ground under oak trees
Are most likely to be seen in late spring and early summer
Have very long, white hairs which contrast markedly with other, shorter hairs
Do not live on fences, walls and similar structures, as some caterpillar species do..