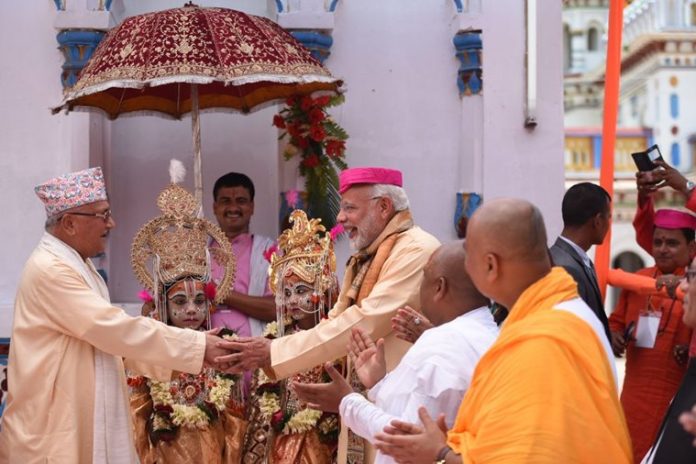 Kathmandu, May 11: Invoking historical and cultural alliances which both the countries share, Prime Minister Narendra Modi on Friday said Ayodhya is incomplete without mother Janaki dham.
"Ayodhya is incomplete without mother Janaki dham. Without the help of Nepal, India is incomplete. Our bond is deeper than the sea," Mr Modi said while addressing a civic reception at Janakpur in Nepal.
"The Indo-Nepal relationship dates back to Treta Yug. King Janak and King Dashratha not only united Janakpur and Ayodhya but also united India and Nepal," said the Prime Minister.
Nepal embraced a democratic set up in 2007, ending years of the monarchy after the fall of King Gyanendra Bir Bikram Shah Dev.
"Democracy is the first condition of development. I'm glad the democratic system is making you firmer. You recently had your election. You have chosen a new government. You've given a mandate to fulfill your hopes aspirations," Mr Modi said.
"I congratulate the Nepal government for successfully making a three-level choice within a year. Nepal has remained the provincial governments in all seven provinces of Nepal for the first time in history. This is not only a matter of pride for Nepal but also a theme of pride for India and this entire region," he added.
During his speech, Mr Modi vouched for regional development and cooperation for the betterment of both the nations.
"It is time for us to protect the panchvati of peace, education, security, prosperity, and sanskars. We believe that Nepal's development itself is the formula of regional development. India is a sustainable development partner of Nepal for decades. Nepal comes first in our ' Neighbourhood Policy'," he added.
The Prime Minister also stated that both the countries have stood with each other in times of need.
"History is proof that whenever there has been a problem, India and Nepal have stood together. We have been there for each other in the most difficult of times," he said.
On trade and investment with Nepal, Mr Modi said, "Trade between India and Nepal is also an important link of relationships. Nepal has been making rapid development in the field of electricity generation. Today, India supplies about 450 MW of electricity to Nepal. We laid new transmission lines for Nepal."
Earlier, Mr Modi with his Nepalese counterpart KP Sharma Oli inaugurated the bus service from Janakpur to Ayodhya.
Last month, both the leaders had also inaugurated the first integrated check post in Birganj.
Mr Modi is on a two-day tour to Nepal where he will also meet with political leaders and pay visit to Muktinath Dham and Pashupatinath Temple.  UNI