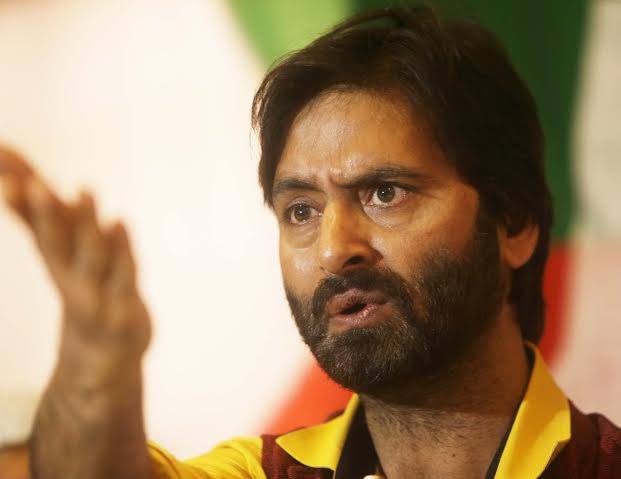 Srinagar, May 12 : Chairman of Jammu and Kashmir Liberation Front (JKLF), Muhammad Yasin Malik and Zonal President Noor Muhammad Kalwal have been released from police custody, a spokesman said.
Malik was arrested on 5th May 2018 and relapsed after almost eight days of incarceration while as Noor Muhammad Kalwal was arrested by police on 6thApril 2018 and released after almost 40 days of incarceration. "Both have been released from police station Kothibagh," the statement issued to KNS added.
Meanwhile, Malik has paid tributes to late JKLF leader and ideologue Sardar Rashid Hasrat on his death anniversary today.
Terming Hasrat as one of the most creative leader, a passionate freedom fighter and a humble soul, Malik said that late Hasrat was a close associate of father of Kashmiri nation martyr Muhammad Maqbool Butt and late primary leader Aman ullah Khan who strived for the freedom of his nation and till his last breath remained wedded to this sacred cause.
Spokesman said that a commemorative meeting was today held in honor of the great leaders at JKLF central office Srinagar in which his struggle and sacrifices were recalled.
The meeting led by vice chairman Advocate Bashir Ahmad Butt was attended by Secretary General Ghulam Rasool Dar Eidhi, senior vice zonal president Muhammad Yasin Butt, zonal General Secretary Sheikh Abdul Rashid, Zonal Organizer Bashir Kashmiri, Professor Javed and others.
While recalling the struggle and sacrifices of the late leader, speakers on the occasion said that Sardar Rashid Hasrat was a zealous freedom fighter and ideologue whose efforts for reunification of Jammu Kashmir and complete freedom of his nation will always be remembered and written in golden words.
Speakers said that Hasrat was a prolific speaker, a enthusiastic spokesman of JKLF ideology and a teacher who trained thousands of young Kashmiris and taught them the way to resist oppression, tyranny and illegal occupation.
He said that despite all odds and many hardships late Hasrat never looked back in his life and till his last breath remained wedded to the cause.
JKLF leaders said that "Hasrat's struggle, sacrifices, bravery and passion for freedom will always be remembered and today when we are recalling this great son of soil, we pray to Allah almighty for his heavenly abode."
At the end of the meeting, congregational prayers were held for the late leader and other martyrs of Jammu Kashmir.
Meanwhile, JKLF has congratulated its committed leader Syed Sajid Ali Bukhari who after serving 24 years in different Indian jails has been released recently and reached his home in Azad Kashmir.
Terming Bukhari as a dedicated, passionate and resilient son of soil, JKLF said that this man strived for the freedom of Jammu Kashmir in practical field, got arrested and served 24 years in jails with exemplary resoluteness and dedication.