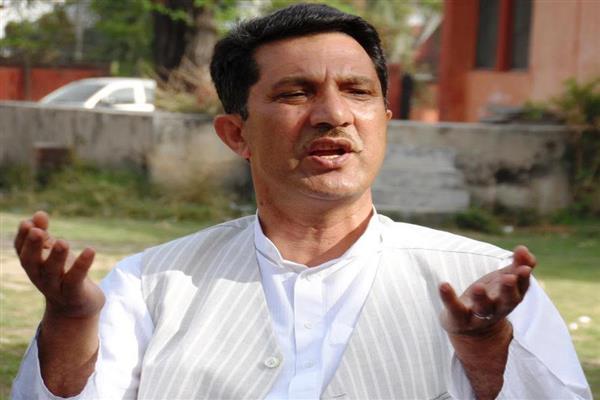 Ignoring Contengent paid employees in SRO 520 totally injustice.
Srinagar: Senior JCC Leader and President Employees joint Action committee, Chairman JKTF Ab Qayoom Wani condemned the use of force on peaceful demonstration of trs. at Partap Park Sgr. Shameful. Wani said that the builders of nation deserve respect and honor at all situations but the way police used lathicharge, watercanning, excessive use of force on builders of nation is totally unacceptable. Wani urged upon the administration for immediate enquirey into the incident so that such type of inhuman acts may not occur in future. Wani said that to protect for rights is birth right of every person but use of force always proved counterproductive at every situation. Wani showed sympathy with the injured teachers and prayed for their speedy recovery. Wani also hoped that the Hon'ble Minister for Education Chowdhary Zulfiqar Ali will keep up his commitment which Hon'ble Minister has made with the leaders of Teachers Forum in a broad based meeting on 12th May regarding delinking of SSA Salary from SSA to State sector to streamline the salary once for all.
Wani welcomed the committee and urged upon the members of the committee which has been constituted for resolving the SSA Salary issue to feel the pain of SSA teachers while submitting the report within a fixed period of time as directed by the Hon'ble Minister of Education during the meeting. Wani hailed the positive approach of Hon'ble Finance Minister Syed Mohd Altaf Bukhari regarding SSA Salary issue and hoped that he will keep up his word to redress this grave issue so that SSA teachers may get a sigh of relief. Wani said that leaders of Teachers Forum are minutely watching the progress after constituting the committee and will react at appropriate time if need arises.. Wani asked the SSA teachers not to be panic and hope for the best as Teachers Forum will never compromise with the Honor, Dignity and rights of SSA teachers and history is witness when Teachers Forum burned all the boats to counter so called screening test drama which was aimed to humiliate and disrespect the teaching community but Teachers Forum succeeded in protecting the rights and honour of the teachers and enemies of teaching community and their puppets also realized the reality and power of Teachers Forum.
Wani condemned the step mother treatment towards contingent paid employees who are working on the meager amount during difficult situations and are still performing the watch and ward and sweeping in schools in absence of Chowkidars and sweepers. Wani urged upon the Govt to include contingent paid employees in SRO 520 and provide them 50% quota from recent creation of twenty thousand watch and ward vaccencies for schools. Wani termed the protest of contingent paid employees justified and EJAC assured them for their just cause and all EJAC leaders will participate in their protest on 
16th May 2018
.