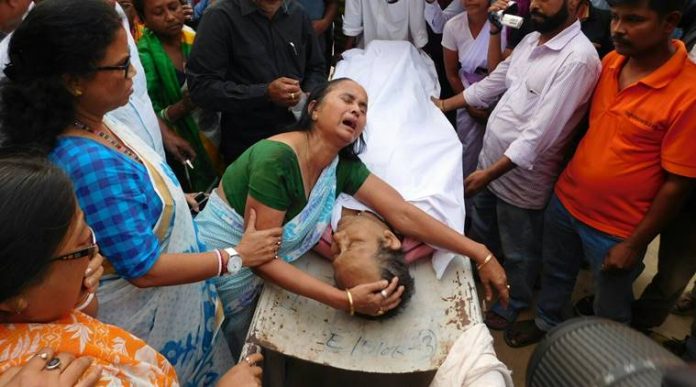 Agartala, May 18 : At least three villagers of a tribal family including a minor died in Thambukbari hamlet of Mohanpur sub-division in West Tripura and another lady in Belfangbari hamlet of nearby Subalsingh was died early this morning due to collapse of mud wall houses following night long heavy rain.
Another 8 –yrs old boy of the victim family of Thambukbari was critically injured in the incident who has been undergoing treatment at Mohanpur hospital. The villagers have evacuated the bodies in the morning from the derbies and informed the police.
A big contingent of police reached to the spot and sent the bodies to the hospital.
The Chief Minister Biplab Kumar Deb rushed to the spot from airport immediately after disembarkment of flight from Hyderabad in the morning. Senior officials of the state administration, education minister Ratan Lal Nath and local MLA of Simna Brishketu Debbarma reached to the villages.
According to report, all the victims were sleeping inside the house but heavy rain was caused collapsing the walls and slipped it on the family members. The house owner, his wife and 3 –yrs old daughter died on the spot and the son got hurt seriously in Thambukbari.
Details of another incident where another lady was died yet to reach come, police said.
Chief Minister has scheduled to attend the administrative camp and public interaction program at Kakraban in Gomati district today was cancelled, as he rushed to the affected villages. More than 10 families in Mohanpur areas have been damaged in last night showers.
The similar loss of property and flash flood are reported from other parts of the state. Most of the low lying areas of Agartala and other towns were inundated due to heavy rainfall since last evening. The meteorological forecast indicated heavy shower across the state for another 48 hrs. The state disaster management authority issued rain and thunderstorm alert for the state.
According to meteorological estimation, Tripura has received almost double rainfall in this year pre-monsoon accompanied by thunderstorm that caused death of as many as 12 people so far including today's incident and damaged about 2800 houses across the state in last two months.
The state government has paid Rs 5 lakh each to the deceased families and paid compensation to all the affected families. The state government has sent a proposal of Rs 93.38 Cr to the central government for disaster management package.
UNI.