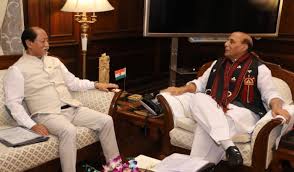 Kohima,Jun 13  : Nagaland Chief Minister Neiphiu Rio along with his cabinet colleagues met Union Home Minister Rajnath Singh at his North Block Office in New Delhi yesterday.
According to a press release issued by Nagaland House in New Delhi Mr Rio discussed issues pertaining to Helicopter services in Nagaland, release of disaster management fund, modernization of administration on the line of police modernization in the state, and early settlement of Naga Political issues. He also reportedly emphasised on the need for extra attention to develop the Eastern Nagaland Peoples' Organisation (ENPO) region.
The chief minister was accompanied by deputy chief minister Y Patton; Minister for Health and Family Welfare S Pangnyu Phom, Adviser of Industries and Commerce Imtilemba; Advisor, Skill Development, Labour and Employment and CAWD Kazheto Kinimi; Advisor Law and Justice, Border Affairs and Treasuries & Accounts Dr. Longriniken; BJP state president Visasolie Lhoungu; General Secretary NPP, Sasank Ghatraj and newly elected Member of Parliament to the Lok Sabha, Tokheho Yepthomi. Minister Pangnyu also supported the need for special attention for ENPO as stated by the Prime Minister during his visit to the state.
Mr Patton, meanwhile, mentioned that the law and order situation and state government functionaries are doing well. He also appealed for more financial assistance from the centre.
The Union Home Minister on his part assured the maximum co-operation to the state for all round development, the release said.
UNI.