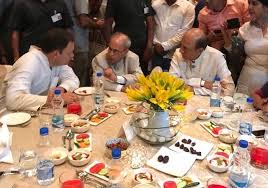 New Delhi, June 14  : All India Majlis-E-Ittehadul Muslimeen (AIMM) president and Lok Sabha MP Asaduddin Owaisi on Thursday lashed out at Congress chief Rahul Gandhi for inviting former President Pranab Mukherjee at his Iftar party and called it an act of "hypocrisy of highest order".
"Give a Speech at RSS Head Office, praise its Founder and comfortably come to Janedharu Iftar party and if my party contest elections will be called communal & what not but inviting & sharing a table with @CitiznMukherjee is "normal , acceptable Hypocrisy of Highest order," Mr Owaisi tweeted.
At the Iftar party on Wednesday evening hosted by Mr Gandhi, his maiden as Congress president, among others Mr Mukherjee, former President Prathiba Patil, former Vice-President Hamid Ansari and former Prime Minister Manmohan Singh were among the main dignitaries.
Former President Mukherjee has lately courted controversy after he accepted invitation and addressed the RSS function at their headquarters in Nagpur.
It may be mentioned that on several occasions, Congress president Gandhi had slammed RSS for its alleged 'communal' slant.
In fact, Mr Gandhi is also facing a defamation case as he has been sued over his comments at a rally before the 2014 election blaming the RSS for Mahatma Gandhi's assassination in 1948.
Appearing before the court in Bhiwandi in Maharashtra, Mr Gandhi on June 12 pleaded "not guilty" as charges
were framed against him by a judge in a defamation case filed by an RSS leader.
UNI.