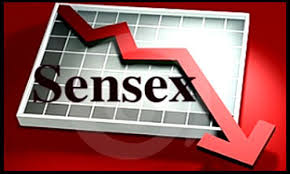 Mumbai, June 14  : The benchmark index of Bombay Stock Exchange (BSE) on Thursday slipped by 172 points to 35,567.01 on profit booking at higher level.
The Nifty of National Stocks Exchange (NSE) too declined by 61 points to 10,795.
Though it opened flat at 35,743.10, rising by 4 points later, it went red.
The Sensex registered intra day high and low at 35,749.88 and 35,509.88 points respectively.
The Nifty registered intra day high and low at 10,833.70 and 10,782.05 respectively.
The sectoral indices like Bankex, Metal, Health Care, Capital Goods eased in early trade.
The losers were SBIN by 1.79 pc to Rs 282.50, TCS by 1.48 pc to Rs 1797.20, ICICI Bank by 1.20 pc to Rs 287.30 and Wipro by 1.17 pc to Rs 265.85.
The gainers were Sun Pharma by 0.82 pc to Rs 550.10, Bharti Airtel by 0.55 pc to Rs 378.15, Tata Steel by 0.48 pc to Rs 570.25 and Dr Reddy's Lab by 0.23 pc to Rs 2257.20.
UNI.