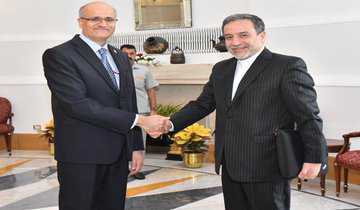 New Delhi, July 17 :  In a major diplomatic development, a delegation of senior officials from
the United States, led by Assistant Secretary for Terrorist Financing Marshall Billingslea, would be holding talks on Tuesday with Indian officials here on implications of the impending American sanctions on crude oil import from Iran.
The interaction is seen as the first of a series of official reach out from Washington since President Donald Trump withdrew from the Joint Comprehensive Plan of Action (JCPOA) and asked countries like India and China to halt imports from Tehran to the level of 'zero' or face sanctions.
The meeting would be held at a crucial juncture when the United States has given broad indications about a modest climb down and said it is open to limited exemptions from the heat of the sanctions.
"……if there are specific situations, we are open to listening. We want people to reduce oil purchases to zero, but in certain cases if people can't do that overnight, we'll consider exemptions," U.S. Treasury Secretary Steven Mnuchin told reporters in Mexico.
Like India, a number of Iranian oil customers, China and Japan would find implementing US sanctions cut all imports from Iran by November 4 (2018) deadline as a difficult proposition.
In dialogue with an Iranian delegation, led by Deputy Foreign Minister Seyed Abbas Araghchi on Monday, the Indian side led by Foreign Secretary Vijay Gokhale informed the visiting side that New Delhi has not taken any final decision on compliance but it would go by the "national interests".
Later talking to reporters, Mr Araghchi said, "There are many routes by which Iran and India can cooperate in important fields for both sides especially energy and Chabahar". He, however, maintained that while there are pressures from outside oil import; Iran does have faith on the Indian government to make proper decisions.
The meetings with Iranian Deputy Foreign Minister on Monday and the US delegation on Tuesday
come as only about three weeks are left for the first set of sanctions to kick in from August 6.
Iran has underlined on the importance of the JCPOA as an important diplomatic achievement saying it has affects not only the signatory countries but the entire international community.
UNI.