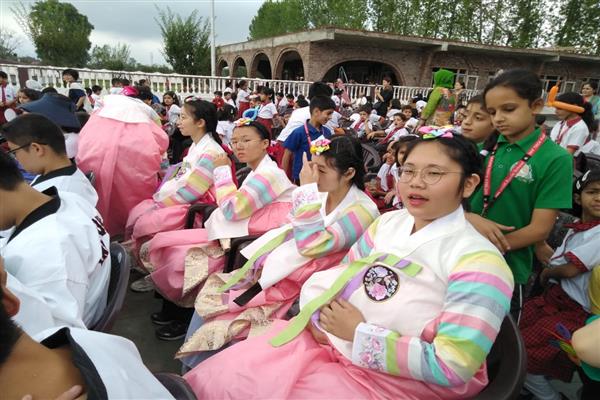 200 foreign students conclude their Kashmir trip for International Youth exchange programme
Srinagar, Aug 08 : In a first of its kind International Youth Exchange Programme, 200 South Korean students visited Kashmir to unite and interact here with local students from different schools for a meaningful experience and exchange of cultural views and understanding of schooling.
Both Korean and local students exhibited their culture through various traditional songs and sports activities here at Hat Trick Public School on the concluding of their cultural exchange programme.
The programme has been organsied by Institute of Asian Culture and Development (IACD), We Volunteers Srinagar, in collaboration with Jammu and Kashmir Joint Coordination Committee of Private Schools (JKJCCPS).
In this regard, JKJCCPS organized a welcome function for the students at Kashmir Harvard School on Tuesday during which many cultural programmes were held, which were performed by local and Korean students.
The day long closing ceremony of the exchange programme was organized today (Wednesday) at Hat Trick Public School to help students enhance their social and personal development.
The program and the activities were designed to introduce local culture to South Korean Students and Korean culture to local students. Korean students performed and sung several traditional songs while as local students also projected the state culture through their cultural performances. The cultural performances enthralled the packed audience of students, teachers and parents.
Both Korean and local students participated in fun-filled activities, games and exercises including painting, making of paper art works, drawing etc, in their classrooms.
Speaking about the programme President JKJCCPS Showkat M Chowdhary said student cultural exchange prgramme is a global phenomenon in which we also want our students to participate and get better inter-cultural understanding and help in personal development.
"This is first of its kind event happening in the state when such a large number of students visiting the state for cultural exchange. JKJCCPS wants to provide best platform for our students so that they get exposed to the global trends in schooling. Under such programmes students cross thousands of kilometers to come to a place and share their culture and it also helps learn and spread pace," said Chowdhary.
Chowdhary said JKJCCPS will organsie more students and even teacher exchange programmes to bring all round development among students.
"We will also be sending our students and teachers to other parts of country or globe for personal development."
Director of IACD, Lim, said they visit many countries for such programmes so that their students unite with students of other regions and promote their culture and also build friendship.
He said this time they chose to visit Kashmir after South Korean President Moon Jae-in had a successful tour of India in early July.
"It was a week long programme and we decided to visit Kashmir also and meet the students here who are studying under tough conditions. The student exchange cultural programme is also helping in promotion of peace in the region," he said.
Other notables who were present at the function include Chairman Kashmir Harvard School and Member Advisory Board JKJCCPS Tariq Ahmad Baktoo, Vice President JKJCCPS Iqbal Begh, General Secretary JKJCCPS M Y Manzar, Chief Organizer Abdul Hameed besides other members including Altaf Gowhar, Er M Owais Raja, Javed Iqbal, Zubiar Nawchoo, Rauf Ahmad, Basheer Ahmad, Rauf Malik, M Ashraf, Madam Grace Paljour, Abdul Haq, Haji Bashir Ahmad.