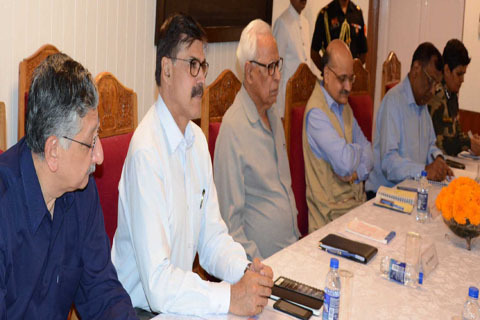 Srinagar, 10 Aug:   Jammu and Kashmir governor N N Vohra on Friday called for heightened vigil on the Line of Control and International Border besides a "real-time" co-ordination between the armed forces and the civil administration.
In a meeting involving senior Civil, Police, Central Armed Police, Army, and State and Central Intelligence Agencies Governor N.N. Vohra undertook a detailed review of security management related issues at the Raj Bhavan," said a spokesman.
After reviewing the prevailing security situation and arising challenges, Governor Vohra reiterated the crucial importance of maintaining a sustained close watch on the ground situation.
He stressed on the need to maintain sustained real-time coordination between the security forces and the civil administration and uncompromising adherence to procedures which ensure against collateral damages while delivering effective counter-militancy responses, said the spokesman.
"Considering the pattern of attempts at infiltration in the past 4 weeks Governor especially stressed the need of a heightened vigil along the IB and LoC, ensuring the safety of protected persons and the security of all important establishments and installations."
The meeting also discussed issues relating to the security of the "sharply reduced" Shri Amarnathji Yatra and the need of a safe environment for the forthcoming elections to Urban Local Bodies and Panchayats, said the spokesman.     (Agencies)