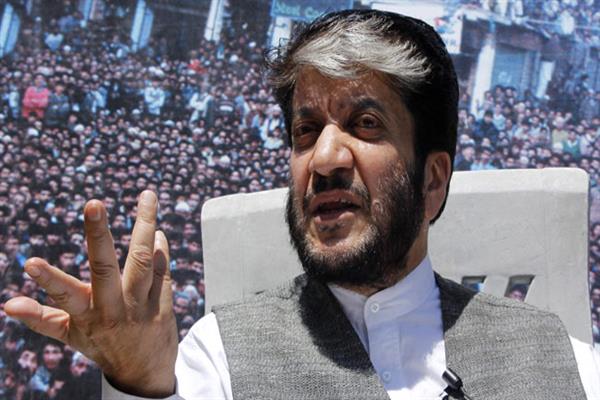 Srinagar (PR): Jammu Kashmir Democratic Freedom Party's (JKDFP) incarcerated chief, and senior resistance leader of Jammu Kashmir, Shabir Shah has been shifted to Kasturi ward of Tihar jail meant for the prisoners whose jail record or behavior towards other inmates or towards jail staff is not good. He has been placed in a small cell of the ward where he is unable to even spread his legs while sleeping.
Prisoners are shifted to Kasturi ward as a case of punishment and Kashmir's resistance leader, Shabir Shah is virtually being punished in Tihar jail for advocating right to self- determination of the people of Jammu Kashmir, DFP spokesman said Valley Media Service. Kasturi ward in Tihar jail is comprised of small cells where prisoners are kept for punishments.
As stated time and again that Shabir Shah is already having multiple ailments especially knee and back pain, arthritis, hypertension, diabetes, heart ailments and he is not able to get himself accommodated in the small cell. Moreover, the washroom Shabir Shah is allowed to use is so small and troublesome that it is very difficult to use. Even the resistance leader is allowed to go to washroom only after seeking permission. It has become torture for Shabir Shah to stay in the cell and he is not even allowed to move out to sit in the sun for some time.
By placing Shabir Shah in a cell meant for punishing prisoners, it has become evident that the government of India has some evil intentions about the senior resistance leader. Since the government couldn't break the will of Shabir Shah by rigorous imprisonment not meant for a political prisoner, it has now started using cheap means against the jailed leader which is highly condemnable and has upset his family and followers.
JKDFP and close relatives of Shabir Shah have time and again informed the authorities that resistance leader's life has been put in danger. The party is again warning the people at the helm to immediately take necessary measures so save the life of Shabir Shah who is languishing in Tiharj jail since July 2017, under fake and fabricated cases.