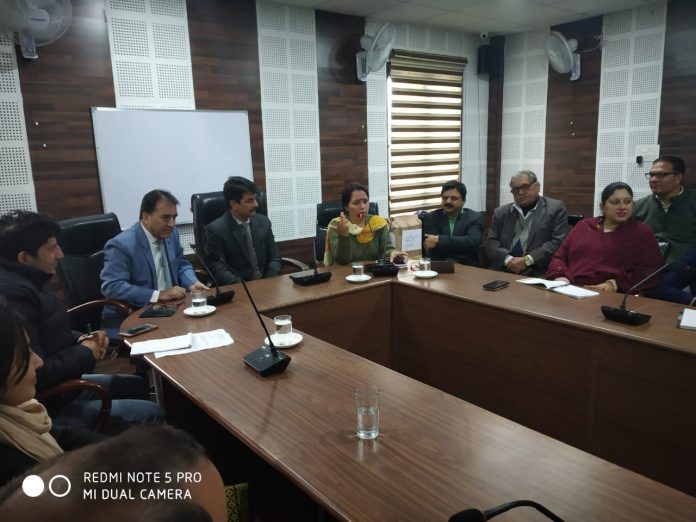 'Bags made of waste cloths aimed to replace polythene bags'
Jammu, Jan 12: The Directorate of Rural Sanitation, Jammu and Kashmir launched a "Wealth from Waste" initiative to provide alternative of polythene bags in the state.
 The initiative taken under Swachh Bharat Mission- Gramin (SBM-G) in J&K, which has entered the 2nd phase of Solid Liquid Resource Management (SLRM) and GOBAR-DHAN after the state was declared Open Defecation Free (ODF).
Women from Akhnoor and R. S. Pora blocks were trained with the help of UMEED self help group to make bags from waste cloths, which otherwise remain piling almost in every household either are thrown into the streets.
The first consignment of 800 bags made of waste cloths was sold to Director Horticulture planning and Marketing, in a function held at Kissan Ghar, Fruit and Vegetable Market Narwal.
"The intention of this activity is to convert the waste cloths into usable bags and at the same time to replace plastic bags and to eliminate plastic bag waste generation at source," Director Rural Sanitation, Indu Kanwal Chib said, adding, this was a first of its kind initiative which not only aims to manage the waste but also to recycle it as a resource which can be marketed for income generation.
This program was led on the ground by Sarpanch Panchayat Seohra (Bishnah), Panch of Panchayat Bardhakalan (Akhnoor), women from the local community and UMEED Self Help Group.
The skill-training was given free of cost by G.K.Educational Trust, which became training partners with the Directorate of Rural Sanitation, J&K in this initiative.
Director Horticulture Panning & Marketing Syed Shahnawaz Ahmad Bukhari became the first buyer of this consignment of 700 cloth bags and handed over a cheque of Rs 20000/- to Sarpanch Panchayat Seohra and other panchs.
The function was attended by Mission Director SRLMSh Abdul Rashid War, Waste expert from State Pollution Control Board J&K- Ms Anuradha, District Panchayat Officers, BDO Bishnah- Ms Rajn, Zila Swachh Bharat Preraks and women from Self Help Groups.
Along with resource persons from G .K. Educational Trust, this programme shall also be formulated with SHG women in Udhampur and Samba to spread this concept across the State.
"This women led initiative has the strength and scope to create a revolution and transform the State of J&K into a plastic free state," Mission Director SBM-G said.