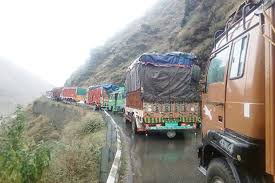 Srinagar, Jan 12 :  Only one-way traffic was resumed on Saturday on the 300-km-long Srinagar-Jammu National Highway after over 2,000 vehicles, stranded since Thursday night due to snowfall, were cleared.
However, the National Highway, the only road connecting Ladakh region with Kashmir and historic 86-km-long Mughal road, remained closed for the past over a month due to accumulation of snow, a traffic police official told UNI this morning.
Mughal road, which is seen as alternative to the Kashmir highway, connects Shopian in south Kashmir with Rajouri and Poonch in Jammu region.
He said traffic was suspended on the highway, the only all weather road linking the Kashmir valley with the rest of the country on Thursday evening due to fresh snowfall on both sides of the Jawhar tunnel. Over 500 Kashmir-bound vehicles, including trucks carrying essentials and oil tankers, got stranded at Ramban, Ramsu, Chanderkote and other places.
Similarly, over 2,000 Jammu-bound vehicles, including trucks carrying fruits, and passenger vehicles, were stopped between Anantnag-Qazigund yesterday. However, the Border Roads Organisation (BRO), responsible for the maintenance of the highway, put into service sophisticated machines and men to clear the snow. Later, Jammu-bound vehicles were allowed to move after Kashmir bound vehicles were cleared.
'Today, we allowed Jammu to Srinagar traffic and no vehicle, including security force convoy, would be allowed from opposite direction,' he said.
He said Light Motor Vehicles (LMVs) were allowed to leave Jammu from 0500 hrs and they have to cross Udhampur by 1330 hrs. Similarly, the Heavy Motor Vehicle (HMV) traffic will be allowed from 1300 hrs to 1900 hrs, he said, adding that no vehicle will be allowed after the deadline.
An official of Traffic Control Unit (TCU), Ramban said that highway was through for traffic so far. It is cloudy and there is a forecast for rain during the day, he said, adding that road condition is being monitored regularly.