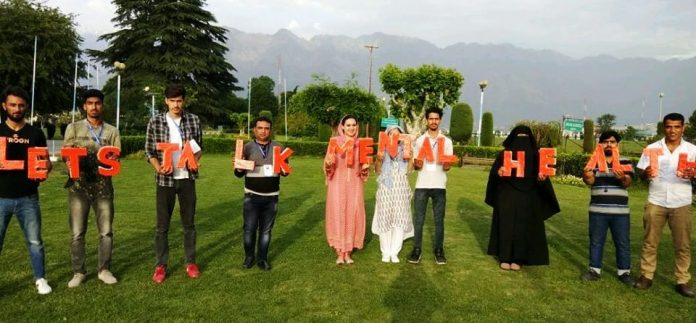 Srinagar: Ittifaaq – United We Stand in collaboration with Department of Students' Welfare, Kashmir University organized a program on mental health at Gandhi Bhawan, Kashmir University, Srinagar. The organizers had titled the program as Beadaarr – Let's Talk Mental Health. Beadaarr is a Kashmiri word meaning awake in order to give essence of responsibility of youth towards mental health awareness. The program was hosted by a young psychologist Dr. Zoya Mir and inaugurated by the Dean Students' Welfare, Kashmir University, Prof. G. N. Khaki.
Valley's leading and renowned psychiatrist, Dr. Arshad Hussain, senior journalist Gowhar Geelani, Research Scholar and author of Tearful Pages, Azra Mufti were the chief guests on the occasion. In his address, Dr. Arshad Hussain said, "Mental health problems in Kashmir are a reality and only small proportion of patients seek help. He, while impressing upon the ways to eradicate stigma attached to it, said the only way to remove the stigma from mental health is to create awareness about it among the masses." Speaking on the occasion, Azra Mufti said, "I am glad to see that a program on mental health awareness has been organized. This would definitely help the victims of mental disorders." Senior Journalist, Gowhar Geelani while emphasizing on the role of media in spreading awareness about the mental health issues and substance abuse said, "Professional hands should write about sensitive issues and use the right words and terminology so that no one is unnecessarily panicked in the name of awareness." Geelani reiterated that media can act as a bridge between people suffering from mental health illness and psychiatrists to telegraph the right messages. "Mental health institutions should organize workshops and seminars with journalists to make them aware about the right terminology to be used in their stories related to health," Geelani said adding "Public awareness on mental health is generally very low in Kashmir. There is need to write more and more about mental health." l-Crystals, R.T Advertisers and C.P Advertisers sponsored the event organized by counselling Psychologist Dr. Zoya Mir and Nida Rehman, founder of ittifaaq organisation.
At the end a pledge was taken by the participants to make mental health awareness widespread and put more efforts in eradicating stigma attached to it.