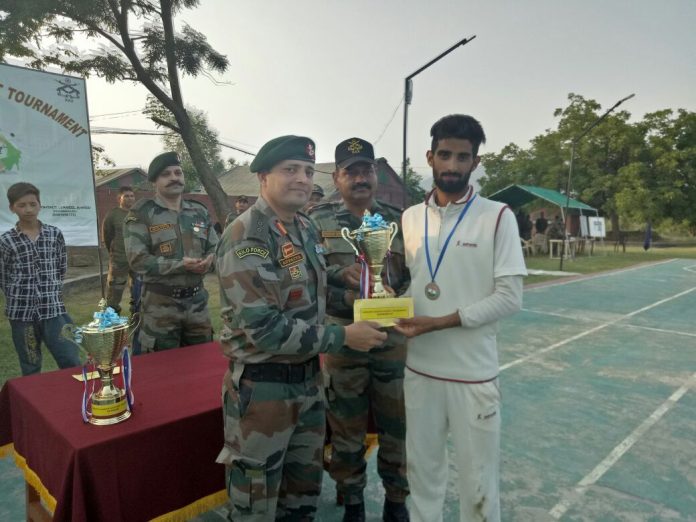 LANGATE CRICKET CLUB DEFEATED RAFIABAD  BARAMULLA  BY 5 WICKETS 
Kupwara: SSP Handwara Gh Jeelani Wani participated As a chief guest & Commanding officer 30RR col Appiya participated As guest of honour and were interacted with the locals and inquired about their well being and problems facing them.
In continuation with the Indian Army's pledge to work for constructive engagement of local youths and to give a boost to local sporting talent , 30RR Langate  behalf of 7 Sector RR was organised a Tehsil level cricket tournament for the youths of Qaziabad which was started from 28 May 2018 and Ended today on 7 June.
A total number of sixteen teams from Various Areas of Qaziabad  were enrolled for the cricket championship.
The Final  match was played today  between Langate V/S  Rafiabad Baramulla  with full enthusiasm.
The event was witnessed by a large number of local population especially who had turned up in large numbers to cheer up the playing teams and enjoyed every moment of the Final match.
CO 30RR Col Appiya told that The aim of organising the championship is to provide local youths a better platform to nurture their sporting talent as well as to encourage and motivate them to achieve greater laurels at state and national level.
The effort of the Army in organising the sports events has drawn appreciation from various Quarters of civil administration and Awaam.
The conduct of such events will definitely go a long way in developing a healthy bond with local populace and nurturing of local sporting talent to meet their dreams @ SSP Handwara Gh Jeelani Wani.
While talking to our correspondent  captain of the wining team  told  that we thanks our army for organising such events and giving us such a platform to show our talent and even the best can go further  with the help of 30RR.
CO 30RR Col Appiya  has been organising sports tournaments for locals which gives  platform to our youths to show their talent    and we hail his efforts and we want Army to continue with same @ civil society Langate.
Besides others, CO 30RR Col Appiya, CO AAD, SSP Handwara Gh Jeelani Wani, SDPO Shabir Ahmad Khan , DSP kralgund Tariq Mehmood, SI John mohd, political stalwarts, media Scribes , and large number of spectators were also present on the occasion.