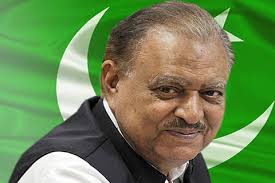 Islamabad, June 8 : Pakistan President Mamnoon Hussain will visit China on Saturday to attend Shanghai Cooperation Organization (SCO) Summit in Qingdao on the sidelines of which he is likely to discuss bilateral matters with his Chinese counterpart Xi Jinping.
At his weekly news briefing in Islamabad on Thursday, Pakistan Foreign Office Spokesperson Muhammad Faisal said that the President will also hold meetings with leaders of other SCO member states.
During his meeting with Mr Xi, all issues of mutual concern including bilateral, regional and international issues will be discussed, Dr Faisal was quoted as saying by Radio Pakistan.
'Bilateral political matters, progress of the CPEC (China-Pakistan Economic Corridor) projects, economic and commercial relations, defence relations and other areas of bilateral relations will also be discussed,' he said.
The 18th SCO Summit, scheduled for June 9 and 10 in Qingdao, Shandong province, will be attended by a host of world leaders including Prime Minister Narendra Modi.
This is the first SCO summit since the expansion of the regional body in June 2017 at the Astana summit in Kazakhstan, when India and Pakistan became full members of the group.
Dr Faisal also said that no meeting was planned between Pakistani and Indian leaders on the sidelines of the summit.
UNI.