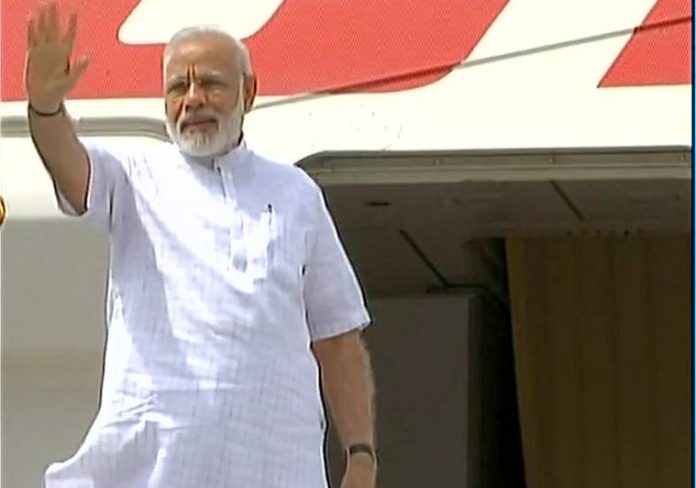 New Delhi, Jan 12 : Prime Minister Narendra Modi on Saturday ridiculed 'desperation' shown by parties like Samajwadi and BSP by coming together merely to stall his government's good works and said the new alliance making efforts are only aimed at ensuring a weak regime that will go soft on corruption menace.
"Alliances are built based on political understanding and vision….But this is for the first time they all want to come together just to stop one person," Mr Modi said in his address to about 12,000 BJP office bearers, senior leaders and state legislators.
"They all have decided to join hands and form a government which will be 'majboor (helpless)'. This is what we need to tell people at every level. They do not want return of a strong government which can put a check on their selfish desires," Prime Minister said.
"These parties want a helpless government so that they continue to thrive in corruption. People want a strong government, but these parties are coming together to ensure return of a helpless regime," he said amid thunderous applause and 'Modi Modi' slogan from the capacity crowd.
"Common people want a dispensation strong enough to fight corruption; but these parties want a government so that they continue to help their kith and kin," Mr Modi said shortly after BSP and Samajwadi Party announced formal alliance for 80 Lok Sabha seats in Uttar Pradesh.
PM also attacked the Congress over the Ram Temple issue, saying it doesn't want a solution to the Ayodhya dispute and is creating hurdles through its lawyers and forcing delay in the hearing.
"Congress is stalling legal process in Ayodhya case. It is sending lawyers to Supreme Court as it doesn't want any solution to the Ayodhya issue."
"Congress is trying to obstruct the Ayodhya case through its lawyers, Congress was even ready to impeach the Chief Justice of India using false allegations, what kind of mentality does the Congress have which works against the country's interest on every issue?" questioned Mr Modi.
He also slammed the governments of Andhra Pradesh, West Bengal, Chhattisgarh for withdrawing general consent to the CBI in their respective states.
In this context, he said even during his tenure as Gujarat Chief Minister, all 'Congress-controlled' CBI and other agencies have tried to 'harass' him, but he never tried to stop the functioning of the probe agency in the western state.
"I fail to understand what is their fear? Why these three states have opposed the functioning of CBI…..What wrong these people have done".
"When I was Gujarat Chief Minister for long 12 years continuously, they did everything to harass me. Congress, their remote controlled officers and the entire Sultanat have not spared a single opportunity to harass me," he said.
"There was no single agency, which did not create problems for me or harass me….," Prime Minister said.
Congress leaders also had claimed in 2007 that 'I would be jailed soon', Mr Modi said adding – "The Mumbai court verdict (on Sohrabuddin case) has lately made it clear that the Congress wanted to implicate me. They had even jailed Amit Shah".
But, he said despite all that harassment, as Gujarat Chief Minister, "we never made any rule that would prevent the functioning of CBI in the state of Gujarat".
"We also had powers, we knew the law and could have framed such norms (as done by West Bengal, Chhattisgarh and Andhra Pradesh)," Prime Minister pointed out adding, "we did not do so because we have faith in the rule of law. We have faith in the principle of difference between truth and falsehood".
The BJP-led rule has proved that the country can be run without corruption, he said.
He said earlier governments saw farmers (annadata) as only 'matdata' (voters), while his government was constantly trying to address challenges faced by them.
"We are working day and night to double farmers' income by 2022," he said.
"Those who were responsible for working for farmers, had made Anna-data — just vote bank (Mat-data)," he said castigating Congress party's "shortcut" policies.