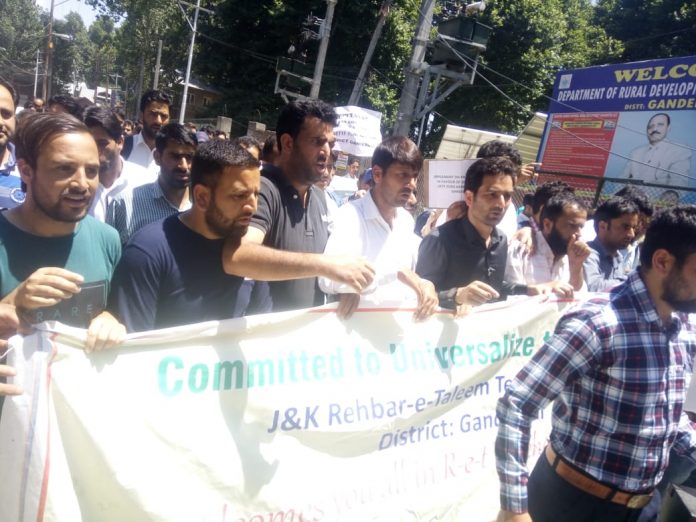 Teachers threaten to 'celebrate' Eid at Pratap Park in Lalchowk
Ganderbal, Jun 13 : The Sarva Shikhsha Abhiyaan (SSA) teachers on wednesday staged
protest at various places across the Valley against the government for failing to fulfill their
demands.
The teachers at various places protest in favour of their demands.
In Ganderbal district, protest demonstrations were held under the banner of Jammu &
Kashmir Rehber Taleem Teachers Forum against alleged callous attitude of the State
Government towards the genuine grievances of the teachers under SSA schemes.The SSA
teachers assembled at Eidgah Duderhama and chanted slogans in favour of their demands.
The protesting teachers were holding the placards highlighting the plights of ReTs and
RReTs who are working under SSA scheme and are at the verge of starvation due to
misinterpretation of these schemes leading to wrong implementation resulting into the
unnecessary harassment and mental trauma for no fault of their.
The protesters were demanding de-linking of their salaries and release of their monthly
salaries along with the benefits of 7th pay commission.
Addressing the gathering, the Chairman Jammu & Kashmir Rehber Taleem Teachers Forum
F A Tantray lambasted the alleged callous approach of the State Government in mitigating
the demands of teaching community and said,
"We don't know what SSA scheme is about but we have been regularized by the
government years ago and formal orders were issued for our regularization as well,",
adding that now the present government was trying to deny salary to a particular lot of
teaching community citing one reason or the other.
"When government gave benefits of 6th pay commission to SSA teachers then why the
present dispensation is making hue and cry over granting benefits of 7th pay commission
for us," the Tantray added..
.
"We want our salaries to be delinked. We don't want to take streets against the government
and make the education suffer, but the government has left us no stone unturned to make
teachers suffer without any reason," Vice District president of the ReT Forum Reyaz Ahmad
said.
"We are facing immense hardships as the government is ignoring our plights. We appeal
the government to fulfill our demands at an earliest,".
"We are being humiliated by the government as if we are inferior class of teachers. We
won't take this anymore. If our problems are not solved, we will launch a state-wide
agitation," Publicity Secretary Tanveer Ahmad said.
One of the protesting teacher said that despite performing their duties in far flung areas
they were facing huge problems,"The government talks high about quality education but
how can we provide so when we remain mentally disturbed for want of money everytime."
We have yet to receive the salary of Feb or March but the Govt released salary of April and
that of without benefits of 7 th pay commission, he added.
Chairman JK ReT Teachers Forum Farooq Ahmad Tantray appealed to the Chief Minister
Mehbooba Mufti to have a look into their grievances and consider their demands before Eid
on humanitarian grounds.
And said that if their demands were not met before Eid they have decided to stage a sit-in
at Pratap Park on Eid day as a mark of protest against the government.
"We will celebrate our Eid in Pratap Park and stage a sit-in there to register our protest
against the government," he said.
Later, a memorandum containing the demand of delinking of salaries and release of salary
along with 7 th pay commission benefits of teachers working under SSA was submitted to
the Deputy Commissioner Ganderbal.